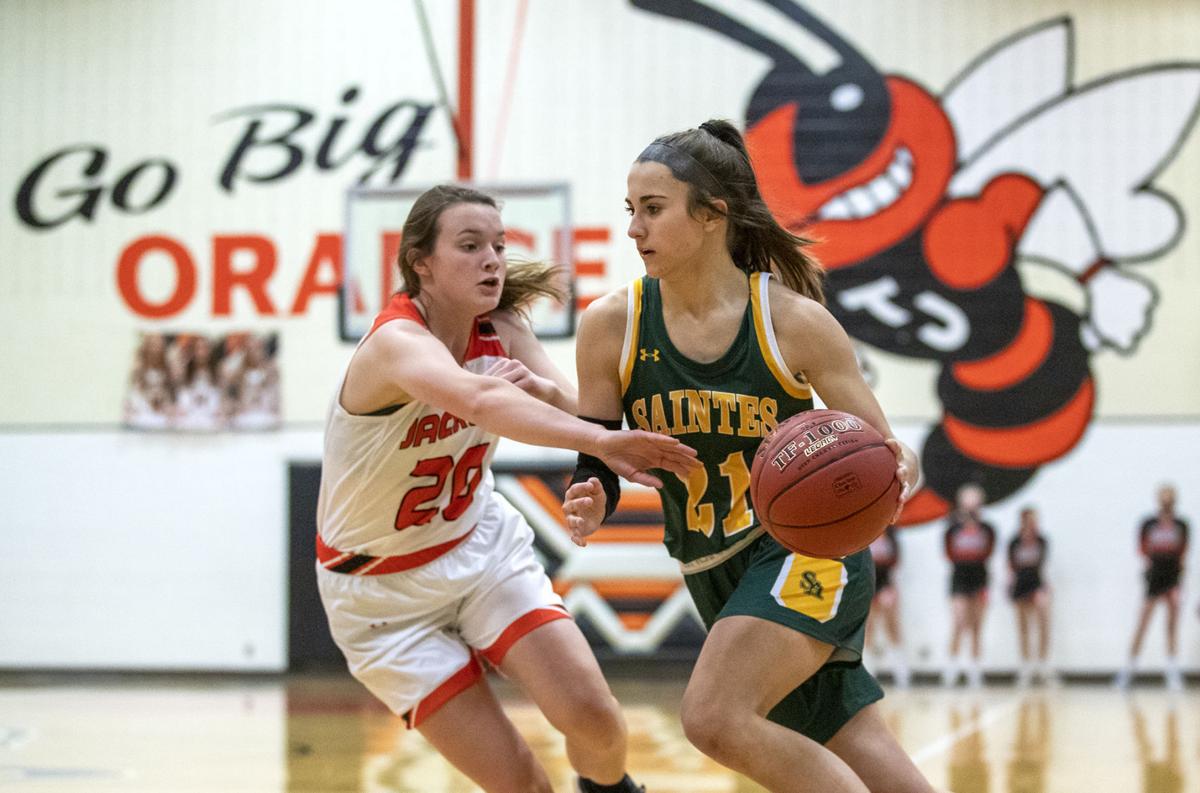 Thomas Jefferson girls basketball will have a new leader this year with first-year head coach Shelby Graves taking over.
The Yellow Jackets went 2-20 last year, but hope key returning players and a roster of 17 girls will lead to improvement.
"I am looking forward to having a roster of 17 girls who are ready to improve, be competitive, and grow as young ladies," Graves said. "We have had a great first week of practice, with a gym full of girls who want to be there to get better each day with high energy and a high level of competitiveness. I am excited to see where their work ethic and positive attitudes take them this season."
Graves is new to head coaching but is familiar with the Thomas Jefferson roster after serving as an assistant coach for two years. She is hoping her coaching staff will pick up where it left off.
"The opportunity to lead this program as their head coach is such a blessing," she said. "I have been set up for a system that already has a great support in place. My staff has a combined 56 years of experience. I also was apprenticed by a great coach before me, Devin Schoening, who has left me feeling confident in my ability to lead this team this year."
Graves said she is setting high goals for the team, but added a difficult schedule will provide plenty of challenges for her team. The Yellow Jackets will face multiple teams ranked.
"My goal for the new season is to keep a two-team roster throughout the season, growing our program and the excitement at T.J. about girls basketball," she said. "We are also looking to be competitive in our tough schedule this year. We have five teams on our schedule who are preseason ranked in polls, making each night a dogfight for us.
"We play in a tough conference as it is, and there is a lot of good basketball in the area. The toughness that this roster has displayed through the first week of practice assures me that these are the girls that will show up for the fight every night."
Thomas Jefferson will look to its seniors in those tough games.
The current roster has three seniors, Lexi Smith, Sydney Hosick and Ali Voss. T.J. will also look to its younger players to contribute.
"I couldn't ask for a better group of seniors to lead this program this year," Graves said. "Ali Voss, Sydney Hosick, and Lexi Smith are as good of girls as they come. They lead by example, mentally and physically, on how to do the little things right in practice. They are four-year players and have a clear vision for how they want to play in their farewell season.
"Samara Alcarez returns after being a varsity player the past two seasons, with her basketball knowledge and defensive leadership to help the team be successful. Two sophomores, Grace Strong and Taryn Gant, return with varsity experience from last year's roster. With a schedule like ours, varsity experience makes them an asset to this roster."
Thomas Jefferson only has six players that return from last year's team.
Tuesday, Nov. 23, 7:30 p.m., vs Treynor
Friday, Dec. 3, 5:30 p.m., vs Sioux City West
Monday, Dec. 6, 5:30 p.m., vs Lewis Central
Tuesday, Dec. 7, 5:30 p.m., at Sioux City East
Friday, Dec. 10, 5:30 p.m., vs Abraham Lincoln
Tuesday, Dec. 14, 5:30 p.m., vs LeMars
Friday, Dec. 17, 5:30 p.m., vs Bishop Heelan
Monday, Dec. 20, 5:30 p.m., at Sioux City North
Monday, Jan. 3, 5:30 p.m., at Underwood
Friday, Jan. 7, 6 p.m., at Nebraska City
Thursday, Jan. 13, 5:30 p.m., vs Tri-Center
Friday, Jan. 14, 5:30 p.m., vs Sergeant Bluff-Luton
Tuesday, Jan. 18, 5:30 p.m., at Sioux City West
Friday, Jan. 21, 5:30 p.m., vs Sioux City East
Monday, Jan. 24, 5:30 p.m., at St. Albert
Tuesday, Jan. 25, 5:30 p.m., at Abraham Lincoln