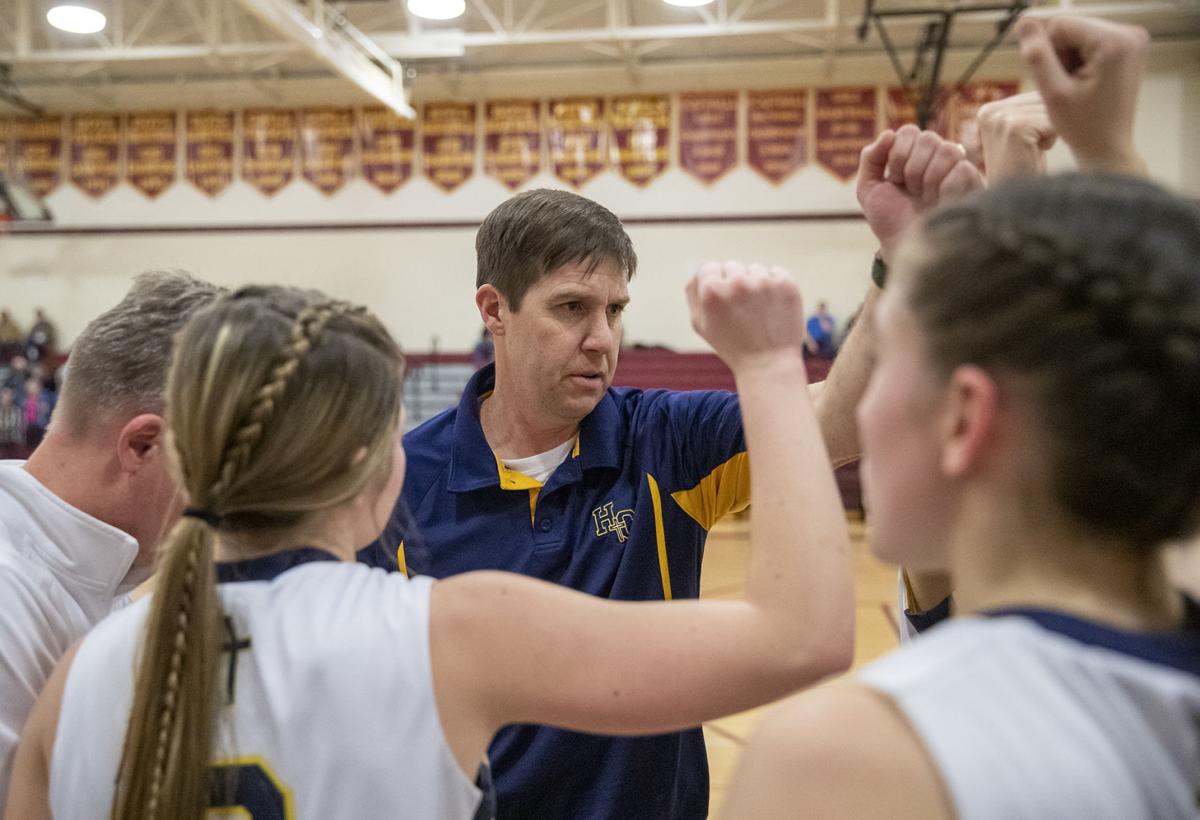 Heartland Christian girls basketball didn't have the season it wanted last year after finishing 2-17.
But with many key returning pieces and a year of experience under their belt, head coach John Stile is setting the bar high for the upcoming year. In order to accomplish those goals, the Eagles will have to rely on some inexperienced talent.
"Last year was a disappointing season," Stile said. "We didn't win very many games, coming off of an 11-win season. By the time we were done with COVID I think we had seven players. It was definitely a very unique situation. We played a few games with just five players. The schedule was brutal. We loaded most of our games up in December. It was a tough year.
"... This year we're a young team. We have a lot of ninth graders. Most of our team only has two to three years experience. We have a few that this is their first year out. However, they all are good little athletes, which is exciting to see. I think that will transition as the season goes on, we'll be pretty competitive."
The Eagles graduated their two leading point scorers. Junior Madie Jundt bring back the most points from last year after averaging five points and 5.5 rebounds a game. Sophomore McKenna Record returns after starting in all 19 games as well. She averaged nearly four rebounds a game and returns the most assists.
Sophomore Tori Thomas is also returning after playing in 19 games and starting six. Freshman Grace Steinmetz is another player that could make an impact. She is coming off of a cross country season where she qualified for state.
Stile said this team will rely on its defense to hold games into low-scoring affairs.
"We have got to play really good defense for us to wins games," Stile said. "We're not going to score 40, 50 points each game. We're more of high 30s, low 40s. On offense we want to move the ball around essentially. We look on a lot of motion and then trying the pick and roll. ... We're going to try to attack what the defense gives us."
Stile said the goal for this team is to win the regional tournament and qualify for state.
"Everything else culminates to that," he said. "We want to put together enough wins to give us a good seeding in regional. At Heartland, the girls team has not won a reginal that I'm aware of. I know in the last 10 years we have not won on."
Heartland opens the season at 6 p.m. on Nov. 29 at Fremont Mills.
Schedule Monday, Nov. 29, 6 p.m., at Fremont Mills
Tuesday, Nov. 30, 6 p.m., at Whiting
Friday, Dec. 3, 1 p.m., at Griswold
Tuesday, Dec. 7, 6 p.m., at Iowa School for the Dead
Thursday, Dec. 9, 6 p.m. vs Riverside
Tuesday, Dec. 14, 6 p.m., at East Mills
Thursday, Dec. 16, 6 p.m. at Parkview Christian
Friday, Dec. 17, 6 p.m. at Boys Town
Thursday, Jan. 6, 6 p.m. 6 p.m., vs Omaha Christian
Tuesday, Jan. 11, 6:30 p.m., vs Cedar Bluffs
Thursday, Jan. 13, 6 p.m. vs Whiting
Friday, Jan. 14, 5 p.m. at Cornerstone
Tuesday, Jan. 18, 6 p.m., at College View
Sat-Sat, Jan.22-29, Frontier Conference Tournament
Monday, Jan, 31, 6 p.m., vs Cornerstone
Tuesday, Feb. 1, 6 p.m., Brownell-Talbot
Thursday, Feb. 3, 5 p.m., Griswold
Monday, Feb. 7, 6 p.m., Essex
Tuesday, Feb. 8, 6 p.m. at Omaha Christian
Thursday, Feb. 10, TBA, Regionals