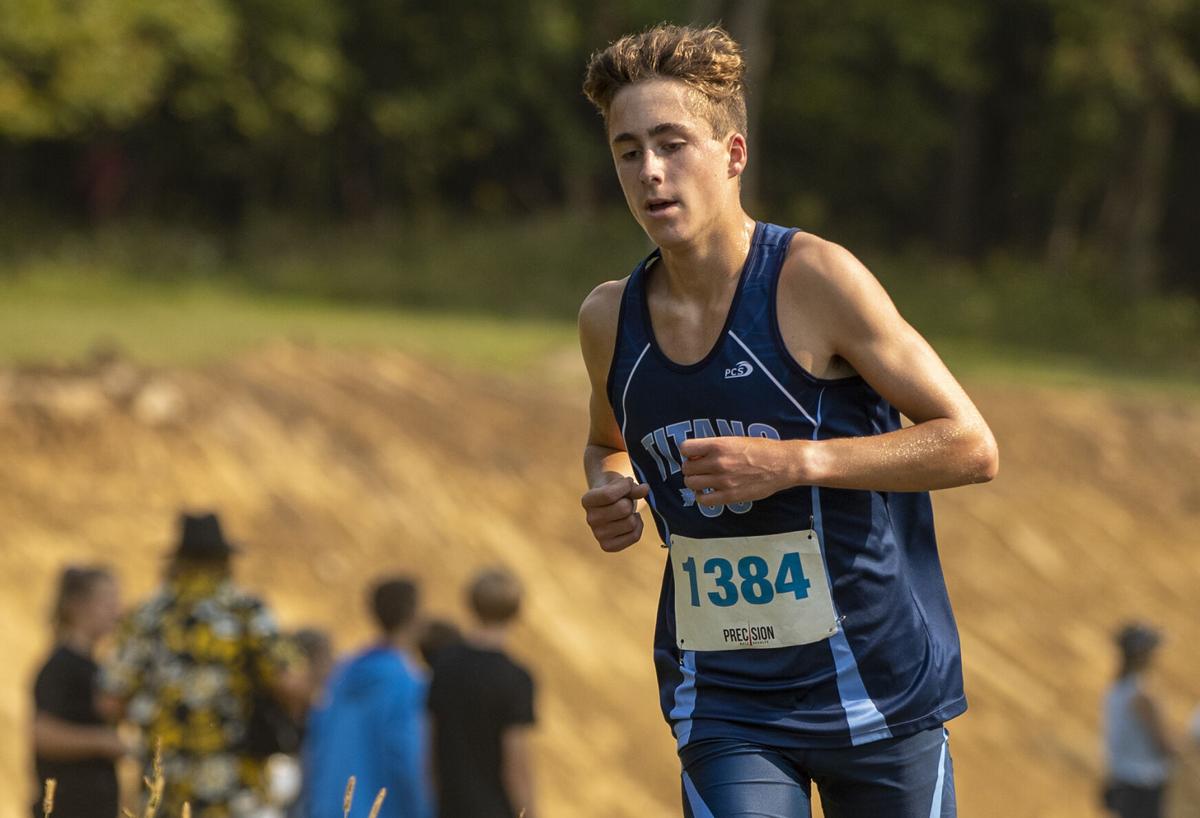 Lewis Central sophomore Ethan Eichhorn punched his ticket to the state cross country meet on Wednesday at the Class 4A District Meet in Ankeny, finishing in fourth place with a time of 16 minutes and four seconds.
"It's exciting. He's been solid all year long," L.C. head coach Taylor May said of Eichhorn. "He had the goal all year of winning conference. He got that last week. He had the goal of qualifying for state. He accomplished that today. He's got some big goals for next week up at Fort Dodge. I'm very excited and happy for him."
Eichhorn was the only Titan to qualify, as the rest of the Lewis Central runners saw their season end.
Sophomore Kade Diercks was the second fastest on the boys' team with a time of 17:26, placing 25th. The boys finished fifth as a team.
"Kade Diercks had another great race today," May said. "He's improved so much from last year. It was great to see him finish in the top-25 today. Luke Woltman had another great race. He really came on strong for us to end the season. Jonah Churchill closed out his career for us. He was a great runner for us the last four years.
"Marshall Arkfeld was another freshman up there. We're very happy. We're really excited with where the kids are going. Jonah was our only senior. We're pretty young other than that. We're really excited about the future is going to go with those guys."
Freshman Maya Humlicek led the girls to a sixth-place team finish after running a 21:10 for 25th.
"Maya has been one of our leaders all year as a freshman," May said. "She had another solid outing. It was a great freshman year for her. I wished Mari (Mahnz) could have been there. Mari was up there too for us, but she's dealing with a little bit of a hip injury so she wasn't able to run today.
"Having Maya up there and (Isabel McNeal) coming back after an injury, she was good for us today. Olivia Arkfeld was another one that was up there strong for us. Same thing on the girls side. We have no seniors, so we'll have all those girls back. We're very excited to see what they can do next year too."
Sioux City North won the boys race to qualify for state along with Ankeny Centennial and Ankeny.
Valley qualified three runners on the boys' side, sophomore Evan McClinton, sophomore Jackson Bergman and junior Aidan Limback. Sioux City East Ryan Campbell also earned a spot at state.
On the girls' side, Ankeny Centennial, Valley and Ankeny qualified as teams, with Centennial winning the meet by one point.
Sioux City East senior Kaia Downs and sophomore Ivy Mehlhaff took spots as individuals along with Sioux City North junior Elizabeth Jordan.
The Class 4A state meet will be held on Oct. 29 at Fort Dodge.
1. Sioux City North — 20 — 1 2 3 5 9
2. Centennial — 66 — 7 8 12 17 22
3. Ankeny — 72 — 6 11 16 19 20
4. Valley — 87 — 10 13 15 23 26
5. Lewis Central — 140 — 4 25 30 39 42
6. Sioux City East — 172 — 14 37 38 40 43
7. Fort Dodge — 199 — 29 34 41 47 48
8. Sioux City West — 230 — 35 36 51 53 55
9. Hoover — 254 — 28 54 56 57 59
1. William Lohr, Sioux City North — 15:29
2. Natnael Kifle, Sioux City North — 15:33
3. Gabe Nash, Sioux City North — 15:38
4. Ethan Eichhorn, Lewis Central — 16:04
5. Yemane Kifle, Sioux City North — 16:12
6. Levi Hill, Ankeny — 16:14
7. Tyler Schermerhorn, Centennial — 16:15
8. Karsten Peters, Centennial — 16:20
9. Beshanena Gutema, Sioux City North—16:21
10. Evan McClinton, Valley — 16:27
25. Kade Diercks, Lewis Central — 17:26
30. Luke Woltmann, Lewis Central — 17:51
39. Marshall Arkfeld, Lewis Central — 18:32
42. Jonah Churchill, Lewis Central — 18:54
45. Richard Selken, Lewis Central — 19:11
46. Caleb Bonsack, Lewis Central — 19:13
1. Centennial — 47 — 6 7 9 12 13
2. Valley — 48 — 1 2 11 15 19
3. Ankeny — 58 — 3 5 14 16 20
4. Sioux City East — 101 — 4 10 26 30 31
5. Sioux City North — 128 — 8 27 28 32 33
6. Lewis Central — 170 — 25 29 35 39 42
7. Fort Dodge — 207 — 37 40 41 43 46
1. Addison Dorenkamp, Valley — 17:41
2. Kamryn Ensley, Valley — 17:53
3. Alli Macke, Ankeny — 17:58
4. Kaia Downs, Sioux City East — 18:02
5. Drew Beason, Ankeny — 18:31.9
6. Rondi Quass, Centennial — 18:31.9
7. Anika Mohrhauser, Centennial — 19:12
8. Elizabeth Jordan, Sioux City North — 19:19
9. Bella Hodges, Centennial — 19:34
10. Ivy Mehlaff, Sioux City East — 19:37
25. Maya Humlicek, Lewis Central — 21:10
29. Isabel McNeal, Lewis Central — 21:54
35. Olivia Arkfeld, Lewis Central — 24:06
40. Makenzie Stephens, Lewis Central — 24:51
45. Kyleigh Hanna, Lewis Central — 25:51
48. Elise Mullenix, Lewis Central — 26:00
49. Ashten Thomson, Lewis Central — 26:15