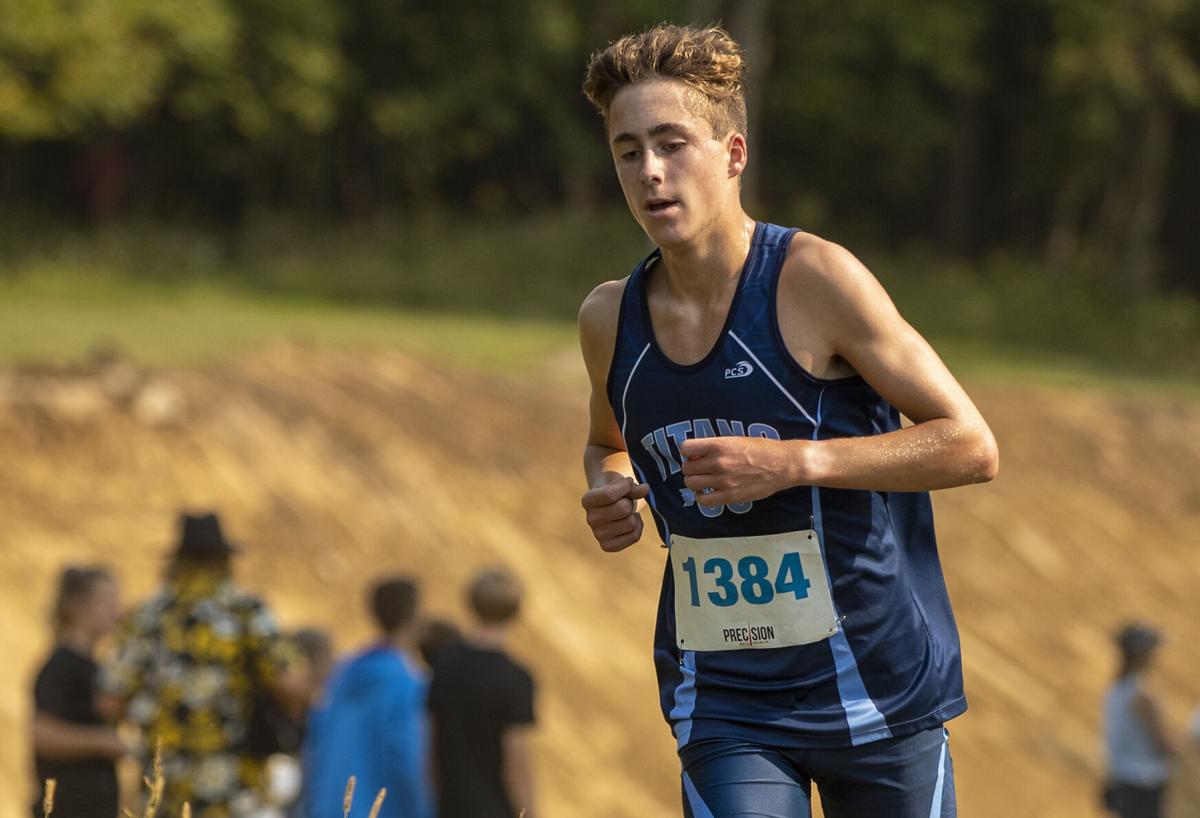 Lewis Central sophomore Ethan Eichhorn continued his dominant season on Sep. 14 at the 47th Ton Karpan Cross Country Invite in West Des Moines.
After winning his home invite on Saturday, Eichhorn took second on Tuesday with a time of 16 minutes and 48 seconds. Lewis Central head coach Taylor May said he was proud of how Eichhorn and the rest of the Titans ran.
"I thought it was a good night," he said. "Coming up here to Valley is always a tough meet. There's some really, really good competition here in central Iowa. It was a good day to run and I thought the kids ran well and responded and took into account the competition and really pushed themselves to be better tonight."
Eichhorn won the first high school varsity race of his career on Saturday and is setting high goals for the rest of the season. Marshalltown senior Conner Smith won the race with a 16:35.
"Obviously, coming off a win, it's good to be in the top two again," May said. "He was second here last year also. ... He's put himself in good position to get that win against hopefully sometime soon."
Eichhorn's time was 32 seconds faster than last year at the same course.
He wasn't the only runner to impress May at the race.
"Kade Diercks had a really good race for us today," he said. "Coming up here and finishing in the top 25, that's pretty impressive as a sophomore. Kade had a really, really good race. He's had a good last couple races. He's really on the up trend and really improving. Logan Fuller and Marshall Arkfeld ran good for us too. They pushed and tried to bring that back pack up towards the front a little bit."
On the girls' side, freshmen Maya Humlicek and Mahri Manz led the Titans. Humlicek ran a 22:34.
"Maya and Mahri leading us again as freshmen is awesome to see," May said. "They just keep pushing and bring those older girls along with them. I thought they both had really good races today, and Isabel McNeal had another good race for us today too.
"We're continuing to improve. Our girls are on the uptrend and we hope they can continue to work towards that."
Lewis Central is in action next at 4 p.m. on Tuesday at the Creighton Prep Invite.
Boys Team Results 1. Norwalk — 40 — 3 7 8 10 12
2. Ankeny Centennial — 49 — 5 6 9 11 18
3. DM Roosevelt — 93 — 15 16 19 20 23
4. West Des Moines Valley — 95 — 4 17 21 26 27
5. Marshalltown—141 — 1 25 31 41 43
6. Lewis Central — 143 — 2 22 38 39 42
7. Waukee — 212 — 37 40 44 45 46
8. DM Lincoln — 234 — 35 36 53 54 56
8. DM East — 266 — 34 52 59 61 62
Boys Individual Standings
1. Conner Smith — Marshalltown — 16:35
2. Ethan Eichhorn — Lewis Central — 16:48
3. Donovan Card- Norwalk — 16:50
4. Evan McClinton — Valley — 16:51
5. Tyler Schermerhorn — Ankeny Centennial — 17:07
6. Karsten Peters — Ankeny Centennial — 17:08
7. Henry Groos — Norwalk — 17:12
8. Chase Will — Norwalk — 17:14
9. Cooper Majors — Ankeny Centennial — 17:15
10. Noah Buhrow — Norwalk — 17:22
25. Kade Diercks — Lewis Central — 18:15
48. Logan Fuller — Lewis Central — 19:01
49. Marshall Arkfeld — Lewis Central — 19:04
54. Jonah Churchill — Lewis Central — 19:19
59. Jaxon Brewer — Lewis Central — 19:37
61. Luke Woltmann — Lewis Central — 19:53
69. Caleb Bonsack — Lewis Central — 20:52
70. Dylan Voudry — Lewis Central — 21:09
73. Jordan Smith — Lewis Central — 22:21
1. Valley — 25 — 1 2 5 6 11
2. Ankeny Centennial — 37 — 3 7 8 9 10
3. Norwalk — 90 — 4 18 19 24 25
4. Waukee — 99 — 16 17 21 22 23
5. Waukee Northwest — 147 — 20 29 31 33 34
6. Lewis Central — 170 — 26 28 37 39 40
Girls Individual Standings
1. Addison Dorenkamp — Valley — 18:31
2. Kamryn Ensley — Valley — 18:41
3. Rondi Quass — Ankeny Centennial — 19:40
4. Breelie Mauro — Norwalk — 20:01
5. Madeline Hollander — Valley — 20:30
6. Cohen Kooker — Valley — 20:32
7. Tillie Smith — Ankeny Centennial — 20:37
8. Bella Hodges — Ankeny Centennial — 20:44
9. Kendall Jordensen — Ankeny Centennial — 20:45
10. Anika Mohrhauser — Ankeny Centennial — 20:48