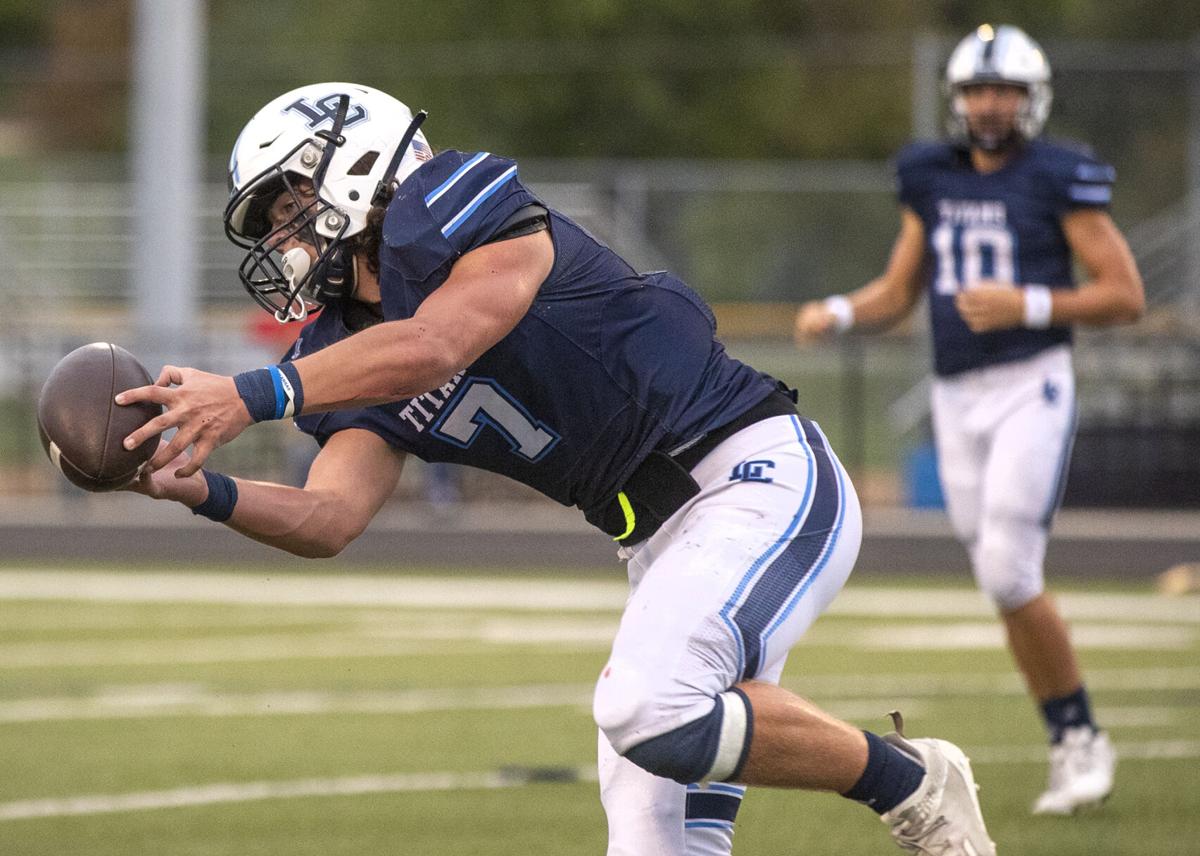 It wasn't perfect. As a matter of fact, it wasn't even necessarily pretty. But, Lewis Central started fast, capitalized on early turnovers and handed Norwalk its first loss of the season 31-3 Friday night in a matchup of ranked Class 4A teams.
"Our players play with passion, and we just have to be able to hone that in at times," Lewis Central coach Justin Kammrad said. "There is a certain standard we are trying to achieve, and we just weren't there tonight."
"It got completely sloppy, and hectic, and we weren't crisp. Honestly, you know, we are lucky to put up 31," Kammrad said. "Just a lot of things we need to correct after a victory like this."
The Titans took advantage of two early Norwalk turnovers en route to a quick 14-0 lead. In total, Lewis Central forced four interceptions and one fumble.
"We talked about getting out to a fast start and jumping out early and putting some pressure on them," coach Kammrad said. "And we did that. We got out, scored a couple of quick ones and got some more turnovers."
A Boston Hensley interception halted a good first Norwalk drive that moved inside the Titan 30. A strong return set the Titans up at the 50.
"I was not allowing anyone behind me and I broke on the ball," Hensley said of the first interception. "It was a good break, my coach said."
The Titans capitalized with a touchdown as sophomore quarterback Braylon Kammrad found Brayden Loftin for a 34-yard touchdown strike.
Loftin caught the pass over the middle, made a few nifty moves, and sprinted down the sideline for the score.
The teams then traded punts, and on the first play from scrimmage after the LC kick the turnover bug bit the Warriors once again. The Titan defense swarmed Norwalk running back Chase Monroe deep in the backfield forcing a fumble at the 14 yard line.
On the first play from scrimmage following the turnover, Jonathan Humpal went right up the middle for the score, giving the Titans a 14-0 lead.
Lewis Central punched in one more first half touchdown that followed a great punt return by Luciano Fidone that took the ball inside Norwalk territory. Fidone cashed in on the possession, catching a pass over the middle and dancing around Norwalk defenders on his way to a 35-yard score.
In the second half, the Titans were committed to running the ball, and that meant a whole lot of Humpal. The junior running back carried the ball on the first five plays of the half, and had 14 carries total in the third and fourth quarters. On his 8th carry of the half, Humpal scampered 66 yards for his second touchdown of the night making the score 28-0.
"We just weren't great in the passing game and the goal was, let's shorten the game," Kammrad said. "If we hold onto the football offensively and put some drives together, and capitalize on it, then that was our goal."
The defense continued to pressure Norwalk quarterback Landon Hochstein in the second half. Hensley picked off his second pass of the night in the third quarter as they continued to harass the Warrior offense.
"I was just back pedalling and I was in the right position," Hensley said of the pick. "Lucky catch I guess."
"We knew coming in they were going to be very pass heavy," Kammrad said.
Hensley added, "We were expecting a lot of deep balls. At practice we were working on staying back and not letting anyone behind us and that's what we did today."
While the Titan defense gave up some yards, they did not allow any points until a field goal early in the fourth quarter. Lewis Central gave up just 14 yards on the ground, and while they gave up 228 through the air, the Warriors had to throw the ball 43 times to get there. Norwalk was averaging 34.5 points per game coming into the contest.
"Three weeks ago we were in a football game and the team went empty on us and threw the ball all over, so we've been working on it. Our guys played really great on the vertical balls tonight," Kammrad said.
"Our (defensive) line was great," Hensley added.
Aside from starring on the defensive side of the ball, Hensley also knocked four extra points through and hammered home a 50-yard field goal, the longest he's made in a game...but not in practice.
"I hit 60 in practice," Hensley said. "It was amazing. I've never done that; I was super-hyped, and it was just a great feeling."
Humpal finished the game with 24 carries for 181 yards and two touchdowns to lead Lewis Central. The Titans struggled to move the ball through the air, but Kammrad did finish with two passing touchdowns.
Lewis Central goes on the road next week to face one of the top Class 4A teams, Indianola, and coach Kammrad knows they have work to do.
"It's going to be correcting our mistakes. Getting back to communication all around," Kammrad said. "It will be a big matchup next week with Indianola with what they do. It will be a great opportunity."
Norwalk (2-1) 0 0 0 3 — 3
Lewis Central (2-1) 14 7 10 0 — 31
LC: Braylon Kammrad 34 pass to Brayden Loftin. Boston Hensley kick good.
LC: Jonathan Humpal 14 run. Hensley kick good.
LC: Kammrad 35 pass to Luciano Fidone. Hensley kick good.
LC: Humpal 66 run. Henlsey kick good.
LC: Hensley 50 yard field goal.
N: Keilor Rodman 33 yards field goal.