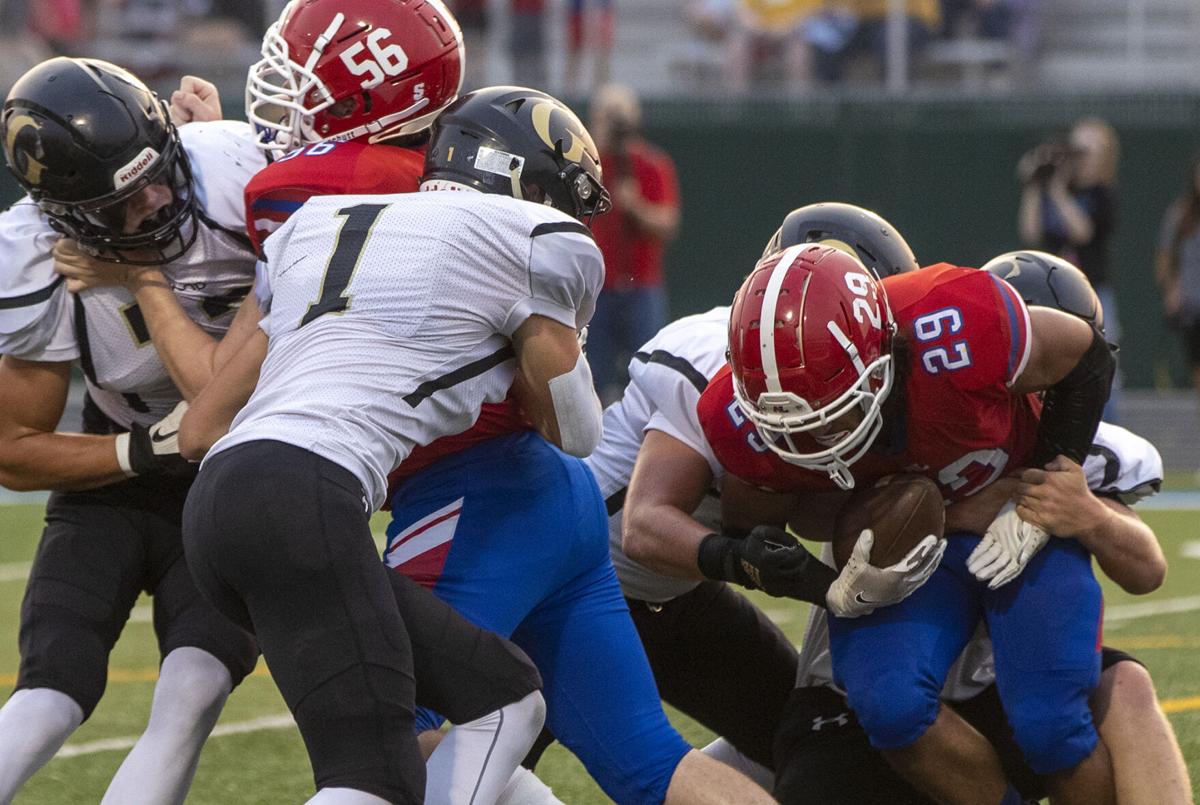 Abraham Lincoln football entered Friday's home game against Des Moines East, knowing they'd only have two games left.
A.L. entered the game with a 3-4 record but is back at .500 after defeating the Scarlets 37-7.
"I thought we took some steps in the right direction tonight," Abraham Lincoln head coach John Wolfe said. "It was good to see our offense move the ball well and our defense step up and get some steps.
"… These kids have really been working hard and they put their nose to the grindstone. We knew we had two football games left, this being one of them. We really want to finish the season strong. We wanted to finish with two wins and we knew we couldn't get to two wins until we won this one."
Neither team scored in the first quarter, but the Lynx scored 16 in the second and added 21 in the second half.
After neither team scored in the first quarter, Abraham Lincoln found success on the first possession of the second quarter when it went 85 yards over 10 plays to score on a 15-yard pass from junior Wade Brown to senior Tim McCarthy.
The Lynx failed the two-point conversion.
The Scarlets answered on their first drive of the second quarter, going 61 yards in nine plays to score on a 1-yard run. DM East took a 7-6 lead after a successful point after try.
Abraham Lincoln drove down to the red zone on the following possession, but DM East held the Lynx to a 24-yard field goal attempt which senior Connor Oliver sent through the uprights.
The Lynx defense stepped up on the following possession, holding the Scarlets to a three and out. The offense took advantage of the opportunity.
With just over a minute left in the half, Brown converted four passes, including a 38-yard pass to senior Mikaele Hayes. The touchdown gave A.L. a 16-7 lead.
"It feels good. Our team has been working hard this week," Hayes said. "We've been trying to get these last two wins. It just feels good to get that win."
Hayes said that a lot of his success came from the offensive line.
"The line was amazing. You could drive a bus through those holes," Hayes said. "It was phenomenal."
Abraham Lincoln pulled away in the second half scoring on its first two possession of the third quarter on a 69-yard pass from Brown to McCarthy and a 17-yard run by Hayes. The Lynx led 30-7 after the touchdown.
A.L. sophomore Ryan Ortega intercepted a pass on the first drive of the fourth quarter, and Hayes broke off runs of 41 and 23 yards, and junior Caden McDowell had a run of 20 yards en route to a 5-yard touchdown from Brown to McCarthy.
"We're fortunate to have two kids who can really tote the ball well," Wolfe said about Hayes and McDowell. "They're great kids and they earned every yard they got."
Brown was another stand-out player in Wolfe's mind. Brown is filling in for senior quarterback Eli Lusajo who is out with an injury.
"I think Wade Brown has really stepped up," Wolfe said. "He's our backup quarterback all season, stepped into that (starting) role last week. He took a big step forward again this week."
The score gave Abraham Lincoln a 37-7 lead with just over seven minutes left in the game.
The Lynx continued to roll, recovering a fumble on the next DM East possession.
The 37-7 lead held for the rest of the game.
Abraham Lincoln will end its season at 7 p.m. on Friday at home against Sioux City North.
Des Moines East (2-6) 0 7 0 0 – 7
Abraham Lincoln (4-4) 0 16 14 7 – 37