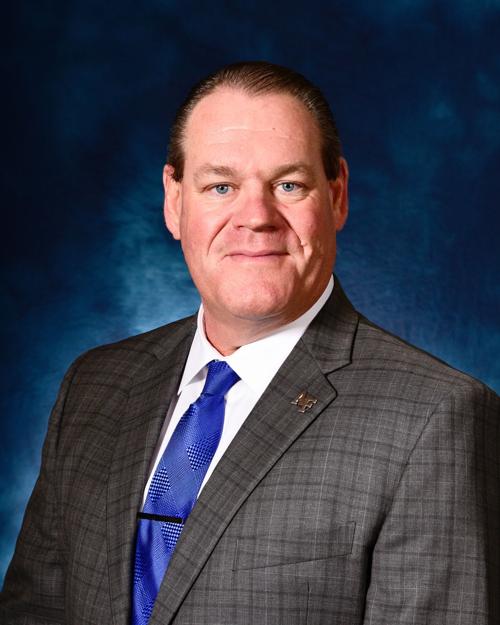 Iowa Western has found its next athletic director.
The school announced Tuesday the hiring of David Miller to fill a position that has been vacant since Jeremy Capo resigned on March 19.
A Manning native, Miller brings significant experience to the job. He recently served as associate athletic director at the United States Air Force Academy in Colorado Springs and was director of athletics at Upper Iowa University in Fayette from 2009 to 2017. He was also the director of athletics at the University of Nebraska-Omaha from 2007 to 2009.
"David Miller brings a wealth of knowledge in athletic administration to our growing campus," Iowa Western president Dr. Dan Kinney said in a release. "David's experience working at the Air Force Academy, Upper Iowa and UNO will translate well as he transitions to overseeing Reiver athletics. We are excited to welcome David back to the region and to the Reiver family."
Miller served on the athletic department cabinet and senior staff at Air Force. His duties included supervising a staff of 14 and overseeing event management, facilities, equipment operations, team travel and logistics, human resources and information technology supporting 29 intercollegiate programs and more than 1,000 cadet-athletes.
At Upper Iowa, Miller provided senior level management of a NCAA Division II program that boasted 16 sports, 50 department members and 400 student-athletes. He led the college in its transition to the NCAA Division II level and guided the department into the Sun Intercollegiate Conference (NSIC).
At UNO, Miller oversaw a 16-sport NCAA Division I and II program with more than 300 student-athletes. He guided an athletic department that produced eight conference championships, 13 NCAA postseason appearances, two NCAA regional championships and an NCAA national championship. He helped UNO's transition from the North Central Conference to the Mid-American Intercollegiate Athletic Association.
"I want to thank President Kinney, the cabinet and athletic department for their trust and confidence in me," Miller said. "This is an exciting opportunity, both professionally and personally. I am looking forward to working with our coaches, staff, student-athletes, and stakeholders of Iowa Western Community College. Reivers athletics has a history and tradition of success and I am looking forward to building upon this foundation of winning and championship results. I want our student-athletes to have a positive experience that endears them to this college and provides them with the foundation to be successful. I could not be more excited to be part of the Iowa Western Community College family."
Be the first to know
Get local news delivered to your inbox!