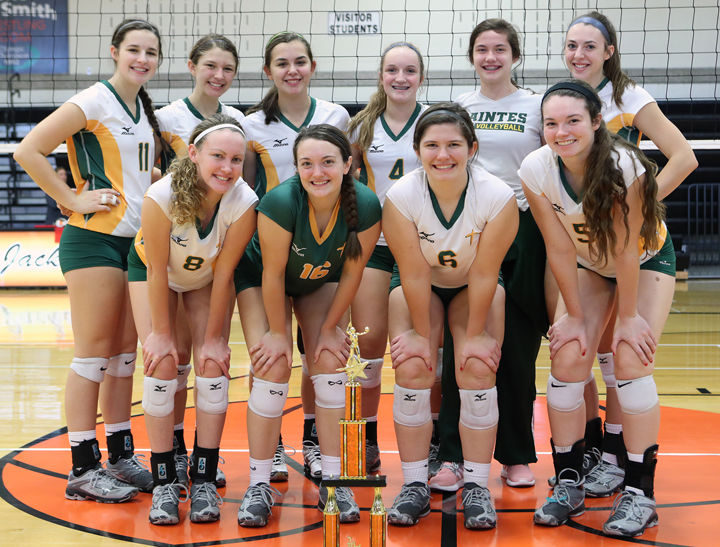 When the St. Albert volleyball team is at its best, the Saintes dictate the tempo, and all the other team can do is try to keep up.
The Saintes didn't always operate at the top of their game at the Thomas Jefferson Invitational on Saturday, but they did enough to take eight out of nine sets and defeat four opponents en route to their third straight tournament title.
The fourth-rated team in Class 2-A is now 20-2 on the season.
"I think we rode the roller coaster a little bit," St. Albert coach Angie Lantz said. "We need to do a better job of making sure we're playing our style and tempo of game, and not dropping down and playing the level across the net from us."
The only set that got away from the Saintes came in the second set of a gold-pool match against a Shenandoah team that they swept in Hawkeye Ten Conference play on Thursday.
After cruising to a 25-9 win in the first set, St. Albert quickly fell behind in the second. The Saintes tried to chip their way back into it, but they fell ultimately fell short, 25-20. They then closed it out with a 15-6 final set.
"Shenandoah's a good team, and you've got to stay focused on what you're doing, or they're going to come back and get you," Lantz said. "And that's exactly what happened in the second set."
St. Albert clinched the tournament title with a 25-15, 25-11 sweep over a Missouri Valley squad that previously had topped Shenandoah in three sets. The Lady Reds were playing without top hitter Reahgan Stueve, who was out of town. They experimented with a 6-2 formation on Saturday for the first time all year.
"I'm proud of the girls," Missouri Valley coach Kris Miller said. "They stepped up when they needed to. When your number one player is out, it's kind of hard."
The Saintes were missing a key starter, too. In an improbable twist, St. Albert middle hitter Kalyn Wettengel was also out of town for to a family wedding. Her absence gave sophomore Veronica Svajgl her first shot at significant varsity playing time.
"There's always a different dynamic when we don't have the ones that they're used to playing with," Lantz said, "but I think they did a great job of adapting and playing well with the six that were on the floor."
Senior outside hitter Sydney McLaren posted a team-high eight kills in the final match. Bailey White followed with five, while Jordyn Blaha and Alesha Johnson came up with four apiece.
Senior setter Lexie Petry registered 21 assists, and junior libero Maggie Wettengel saved nine of her total 49 digs on the day for last.
Earlier, the Saintes swept Thomas Jefferson in pool play and scratched the last city team off its list to claim the unofficial Council Bluffs city championship. St. Albert previously topped Abraham Lincoln in four sets and knocked off Lewis Central in a five-set thriller.
"We've beaten everyone in the city, so I guess if you want to call us city champs, that's cool," McLaren said with a laugh. "A.L.'s improved a lot over the years and so has T.J., and both teams proved that today. And L.C. is always good, so it's nice to beat them."
The St. Albert match ended up being Thomas Jefferson's only loss of the day. The Yellow Jackets beat Siouxland Christian in three sets in pool play, edged Abraham Lincoln for the first time in three tries and clinched the silver pool with a sweep over Exira.
"I feel like we're finally at the best that we've been all season," T.J. coach Bonnie Clinch said. "This is our best moment, and I think if we can keep building on that right into regionals, I think it's a good thing for our program."
Clinch said that the biggest difference Saturday was the team's aggressive mindset at the net.
The Yellow Jackets' stat leaders on the day were Josephine Starner (38 kills, 23 digs and four solo blocks), Jenna Midkiff (54 assists and 26 digs) and Erica Meyer (46 digs). Angel Humphrey and Torrie Rief combined for 11 aces, and Tyanna Carey posted a team-high seven solo blocks.
A.L. went 2-2 on a day that coach Katie Darrington would like the team to learn from and move on.
"I'm not disappointed in the way we played volleyball," she said. "What I'm disappointed in is that, in the face of adversity, we turned on each other, and I thought we were better teammates than that."
St. Albert (kills-aces-blocks): Maggie Wettengel 0-3-0, Jordyn Blaha 4-3-1, Emily Recher 0-2-0, Sydney McLaren 8-0-2, Lexie Wettengel 1-1-1, Olivia Barnes 0-1-0, Alesha Johnson 4-0-0, Veronica Svajgl 1-0-2, Bailey White 5-0-2.
Missouri Valley: Kalli Davis 5-0-0, Sydney Austin 1-0-1, Faith Staska 2-0-0, Brianna Ladd 0-0-0, Megan Winchester 2-0-0, Carter Crispin 5-0-1.