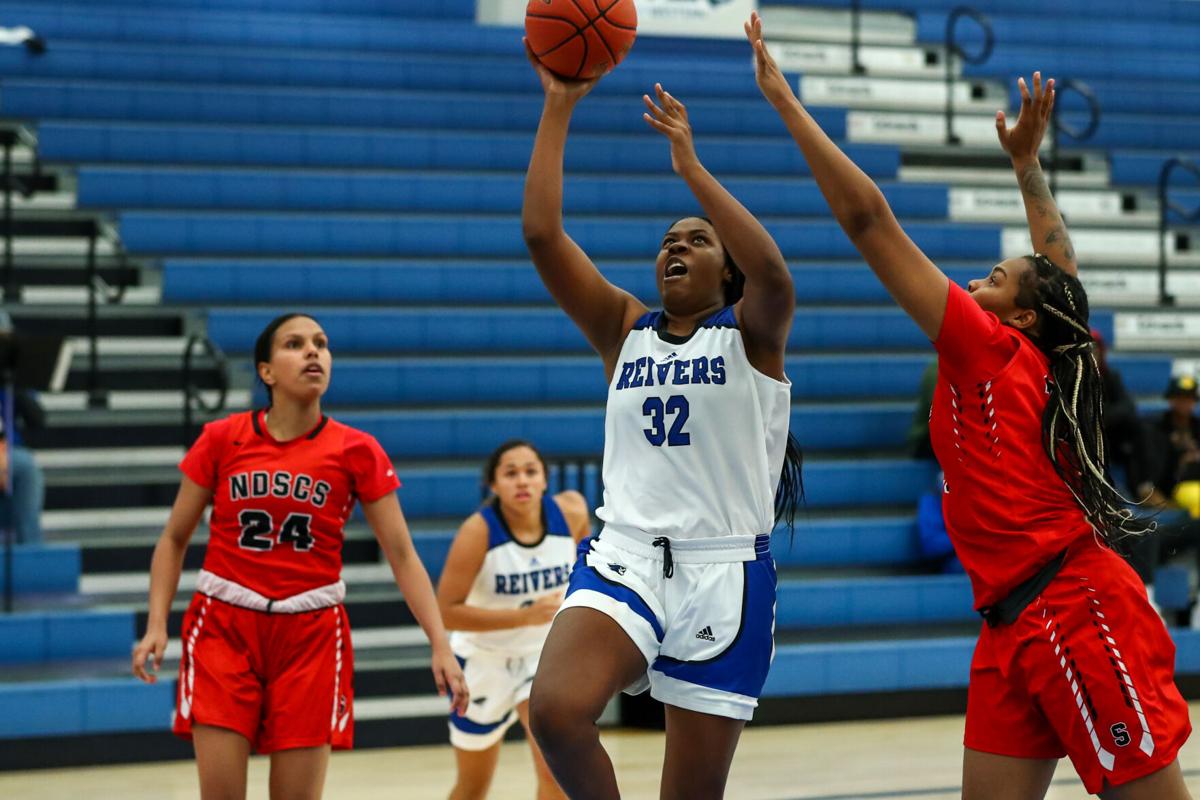 The No. 15 Iowa Western women's basketball team earned a big road win after pulling away from previously unbeaten No. 5 Kansas City Kansas College. The Reivers won 87-73.
After starting the season 0-2 the Reivers have now won back-to-back games by double-digits.
"It's been rough at first just because we had three games canceled due to COVID-19," Reivers coach Lindsey Vande Hoef said. "We've been getting our players back slowly and really since then we've just been trying to get into a groove and build some chemistry on the court.
"Kansas City Kansas is a very good team, and it's tougher on the road, but it was really exciting to see our players start to gel and come together to get this win."
After a tight battle in the first quarter, the Reivers created separation from the Blue Devils as they ended the first half with a 14-5 run to take a 39-31 lead into halftime and never gave up the lead again.
"We had a slow start," Vande Hoef said. "We left a couple of their shooter open early, but I was really happy that we got those momentum swings which allowed us to play deeper into our lineup. I think that wore them down because they didn't play very deep, I think they only had seven different players play. But we got a lot of different girls out there to stay fresh and hold them off."
Iowa Western had 10 different players make at least one basket.
The Reivers had four players score double figures in this game. One of them was Michell Butler who had a double-double with 17 points and 11 rebounds. Ndidiamaka Ndukwe led the Reivers with 20 points. Ndukwe also had eight rebounds and a steal.
The Reivers will return to action on Friday when they host New Mexico college at 7 p.m. for day one of the Iowa Western Thanksgiving Classic.
Iowa Western (2-2) 15 24 18 30 — 87
Kansas City (7-1) 16 15 18 24 — 73
Iowa Western: Ndidiamaka Ndukwe 20, Michell Butler 17, Courtney Fields 11, Mary Delgado 10, Ruba Abo Hashesh 8, Aleshia Jones 7, Desislava Kantardzhieva 6, Hannah Burg 3, Shanae Suttles 3, Kambree Rhodes 2
Kansas City: Tiara Earnest 22, De'Jaria Guillroy 17, Ikia Elam 16, Jennifer Guilbeaux 6, Mercer Roberts 5, Aysia Arrowood 4, Trinity McDow 3