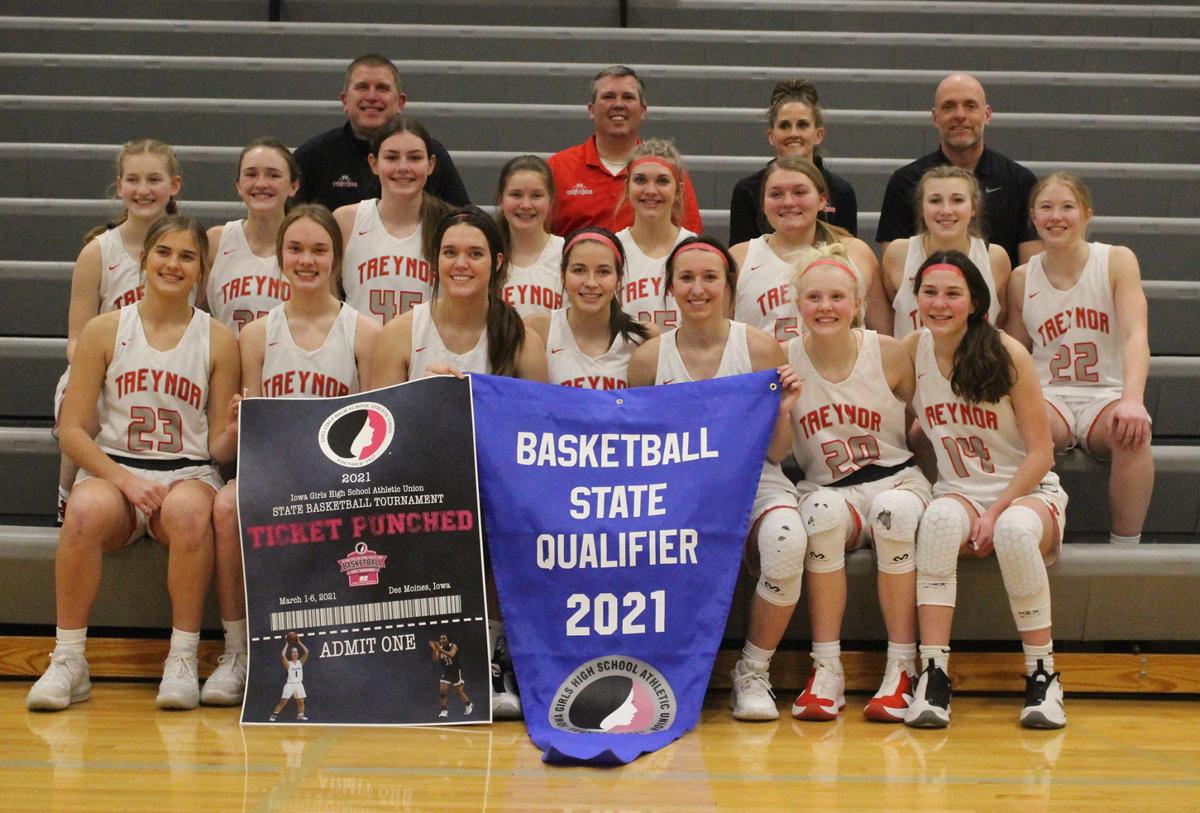 Wednesday morning the Treynor girls basketball team will return to a familiar setting at Wells Fargo Arena for the Class 2A state tournament.
The 10th-ranked and seventh-seeded Cardinals' clash with second-ranked and second-seeded Dike-New Hartford (23-0) at 10 a.m. will mark their 17th state tournament appearance and fourth in the last five years.
But this particular trip highlights how big a step forward the Cards (20-4) have taken following a down year in 2020 in which they won only eight games. The year prior, the Cardinals won the Class 2A championship and graduated plenty of seasoned experience. The year that followed was about team bonding and maturity, and the payoff came this winter.
"Last year, we were coming off a title team that had a lot of experience and a lot of talent," Treynor head coach Joe Chapman said. "Last year, our girls were learning to play without some of the girls from the state title team. It took a while with our system and what we do. Fortunately, this year it carried over a little quicker than we thought.
"We've always trusted the system and how we coach it. This year, they just perfected the little things that we worked on, and it's coming together."
One player who played on the 2019 championship team is current senior Mandy Stogdill, who has emerged from role player to veteran leader. She'll be making her third trip to Des Moines when the Cardinals take the court Wednesday, and she's truly enjoyed the journey of getting back to Wells Fargo Arena.
"Last year was definitely rough," Stogdill said. "We were working out some kinks, and we knew going into this year that we had to come together as a team. We had talent; we were just really young. We knew we were capable. We just had to play every game our hardest and not take one possession off. That's what got us here, and it feels really good."
Not surprisingly, Treynor's toughest test of the season awaits in the quarterfinal round. Unbeaten Dike-New Hartford is making its fourth consecutive state appearance. The Wolverines lead Class 2A in points per game allowed (25.7) and are third in points per game (60.4). They also lead the class in point differential (34.7), steals (19.9), are second in assists per game (16.1) and offensive rebounds per game (15.3) and fifth in field goal percentage (42.5%).
The Wolverines feature two players with double-figure scoring averages in freshman Payton Petersen (14.1) and sophomore Ellary Knock (11.0). Junior Sophia Hoffmann leads Class 2A in assists per game (7.0) and is fourth in steals per game (4.9) while adding 7.6 points.
"They pose a little bit of a problem," Chapman said. "We're going to have a little different game plan than we've had the rest of the year. It's some new learning, but that's okay. Sometimes when it's late in the year, if you have some new things to learn, it actually keeps them a little bit more engaged."
Treynor sophomore Clara Teigland and her teammates know a tall task awaits with Dike-New Hartford, but the team has confidence in the game plan.
"We have very good coaches that have broken down the film for many hours," she said. "They watch film all night and put in the hours for us. At practice, we go over it over and over, and they drill it into our minds. We like being the underdog, so it will be a fun game."
The good news is that defense has been a calling card for the Cardinals all season. They rank third in 2A, allowing only 32.3 points per game. A 2-3 zone defense has been very beneficial for Treynor throughout the year, but they also adjust in-game, whether it be switching to a man defense or pressing their opponent in order to have a better command on game tempo.
Teigland leads Treynor with 13.2 points per game, and Stogdill adds 10.8. The Cardinals also get good contributions from senior Alyssa Kellar (7.5), freshman Alexa Schwartz (4.8) and junior Emma Flathers (3.4).
The Cardinals have shown they're capable of capitalizing on momentum. They enjoyed a 12-game wining streak in the middle of their season, and they defeated Lawton-Bronson, West Monona and Underwood in regional play to earn their state berth.
"It's been so rewarding," Teigland said. "Last year, we didn't come together, and our team chemistry just wasn't there. This year as the season has gone on, we came together and our defense has been very strong. (Offensively), we're good at kicking out and getting people open, and that's been used to our benefit this year."
Chapman had confidence in his team, but like all other squads around the country, he worried the team would suffer with a lack of preseason prep due to COVID protocols. But to his pleasant surprise, the team adapted and made the most of a tricky situation.
"Over the summer, we didn't really have much time because of COVID," Chapman said. "We had some workouts we could get in. We had two tournaments, and I was certainly surprised at how well we were doing and that the pieces of the puzzle were there.
"I thought we'd have to play real well and a lot of things would have to bounce our way for it to work. I think the Glenwood game showed that we can hang with anybody and helped the girls realize that if we stick to our game plan, we can hang with anybody."
The Cardinals played tough but lost against Glenwood, who enter today's Class 4A state tournament the No. 1 seed.
It's been a rewarding journey for Treynor to get back to Des Moines. By no means is the work done, but Chapman feels the pressure is off his team. They're viewed as underdogs, and they know that if they follow game plans as they have all season, they'll give themselves a chance.
"It's new to all of them," he said. "They're very excited. Just hitting that first shot or making that first stop is key. We're going to take the game two, three minutes at a time and try to win the first 120 seconds, and we'll go from there. We just need to keep the game in pieces, see where we're at, and make adjustments."