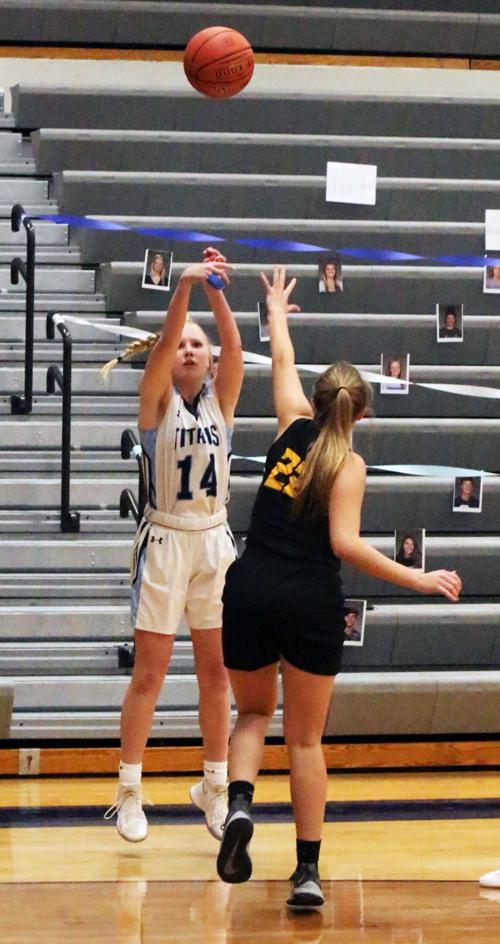 With just one returning starter from last season, the Lewis Central girls basketball team rolls into the season with lots of new names and faces expected to start this season.
Despite all the new starters, the goals for this season remain the same. While the team expects to be tested a lot early in this season, Titan head coach Chris Hanafan has liked his team's effort in the first couple weeks of practice.
"We are going to be inexperienced as we have only one returning starter," Hanafan said. "The kids have waited their turn and now it's their time to step up. Our schedule is extremely tough before Christmas break so we will see where we are right away. We need to get better every day in practice and so far our girls are doing that.
"We will always have two goals in this program. Win the conference and finish the season in Des Moines," at the state tournament, he continued. "The conference was loaded last year and there are some very good coaches in the conference. This year will be no different."
The 2020-2021 basketball season had plenty of crazy moments with the balancing act that was playing with numerous COVID-19 protocols, and in last year's case for LC, some positive cases as well.
"Last year was such a strange year," Hanafan said. "With COVID restrictions and then the fact that we had to shut down the program for two weeks because of so many positive cases. Last year we had one starter back with a lot of varsity experience and sometimes our varsity inexperience showed."
The Titans ended last season 10-9 overall after falling to Glenwood in the regional semifinal.
While this team only returns Lucy Scott as its sole returning starter from last year, this team does have three seniors to help lead the way this season. However, this team will get leadership from plenty more people than just the three seniors.
"It will be very important that we get good leadership out of our seniors," Hanafan said. "They have done a great job from the summer up to now of being the leaders we need. That leadership is vital with such a young group.
"We return one starter in Lucy Scott who started last year as a freshman. Kylee Brown saw valuable minutes last year and Gracie Hays and Elise Thramer are two juniors that we expect great things from. After that, we have a list of sophomores and a freshman that look to contribute."
Lewis Central's first scheduled game is tonight as the Titans will host Sergeant Bluff-Luton at 7:30 p.m.
Tuesday, Nov. 23, 7:30 p.m. vs. Sergeant Bluff-Luton
Tuesday, Nov. 30, 7 p.m., at Sioux City Heelan
Friday, Dec. 3, 6 p.m. at Red Oak
Monday, Dec. 6, 5:30 p.m. at Thomas Jefferson
Tuesday, Dec. 7, 6:30 p.m. vs. Indianola
Friday, Dec. 10, 6 p.m. vs. St. Albert
Tuesday, Dec. 14, 5 p.m. vs. Norwalk
Friday, Dec. 17, 7:30 p.m. at Atlantic
Tuesday, Dec. 21, 6 p.m. vs. Glenwood
Tuesday, Jan. 4, 6 p.m. at Harlan
Friday, Jan. 7, 6 p.m. at Clarinda
Friday, Jan. 14, 3 p.m. at Omaha Skutt
Tuesday, Jan. 18, 6 p.m. at Denison-Schleswig
Friday, Jan. 21, 6 p.m. at Shenandoah
Monday, Jan. 24, 7 p.m. at Urbandale
Friday, Jan. 28, 6 p.m. vs. Carroll Kuemper
Tuesday, Feb. 1, 7:30 p.m. at ADM
Friday, Feb. 4, 6 p.m. vs. Harlan
Saturday, Feb. 5, 1 p.m. vs. Blair
Tuesday, Feb. 8, 7:30 p.m. at Glenwood