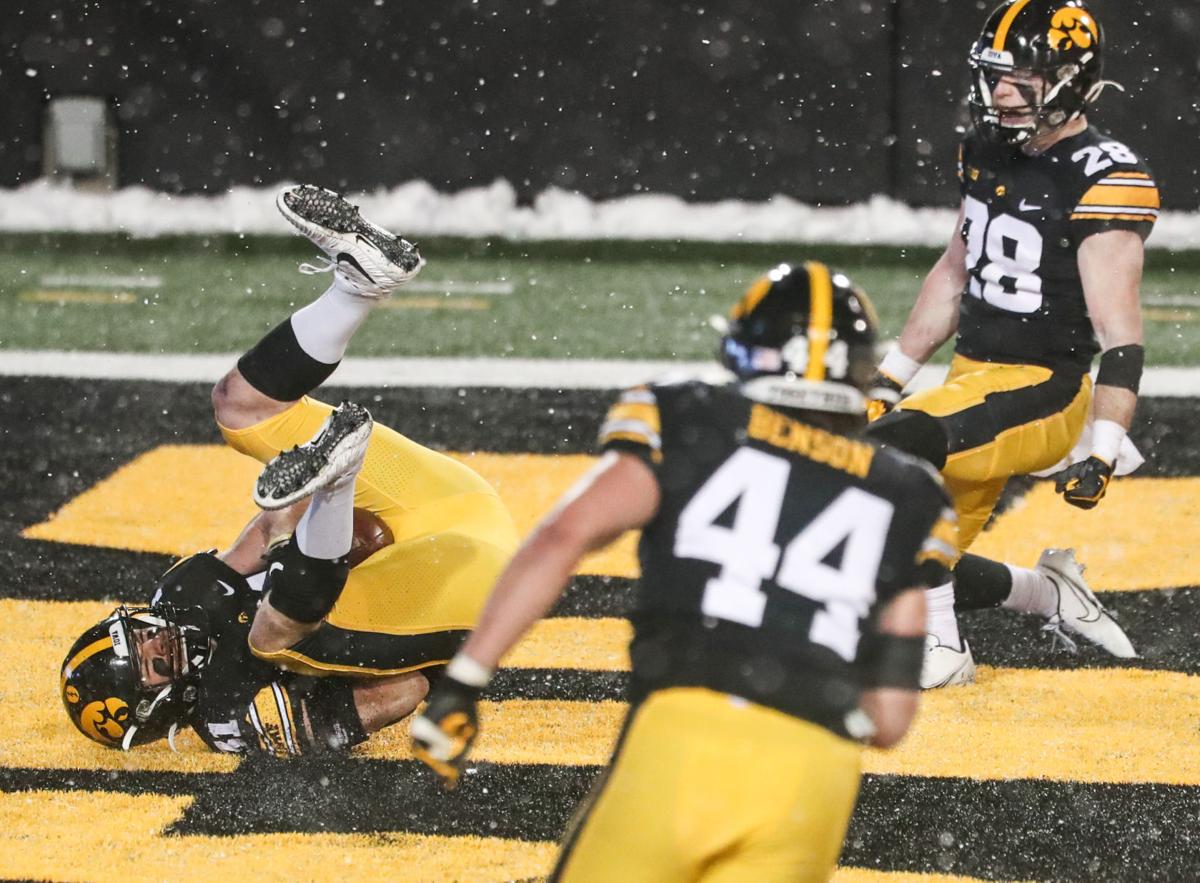 IOWA CITY — After sharing time at middle linebacker last season, Jack Campbell and Seth Benson are preparing to take on their own roles in the heart of Iowa defense.
All Hawkeye linebackers spent time shuffling between positions during spring ball, but Campbell is listed at the top of the depth chart at weakside linebacker and Benson is penciled in as the first-team middle linebacker in Iowa's most recent depth chart.
"I'm ready to step in wherever I'm needed," Campbell said. "That was a big thing in the spring, getting everybody comfortable at each position and understanding how it all fits together."
Campbell and Benson began to develop that understanding in the fall of 2019, when Campbell was one of eight true freshmen to see the field for Iowa and Benson was seeing his first significant action after playing in three games while maintaining a redshirt year as a true freshman in 2018.
Both shared the workload in a reserve role at middle linebacker in 2019, helping each other settle into competition at the collegiate level.
"We've had kind of the same progression, so we've spent a lot of time working together and helping each other out," said Campbell, a 6-foot-5, 243-pound junior from Cedar Falls.
"It's worked out well for both of us. We've hung around together since I've been here and I think we've done a good job of working together."
Campbell points to Iowa's 6-2 season, when he missed the first three games of the year because of mononucleosis but returned to record 29 tackles, establishing career-high single-game totals in Iowa wins over Minnesota, Penn State and Nebraska.
He would rotate with Benson, a 6-1, 229-pound junior from Sioux Falls, S.D., who finished with 47 tackles in seven games after missing the Hawkeyes' opener because of an injury.
The pair would talk on the sidelines as the Iowa offense was on the field, pointing things out to each other that they had either seen on the field or from watching from the sideline as the other worked.
"There was always a set of eyes on what we were doing on the field," Benson said. "If I were on the field, when I came off the field I'd talk to Jack about what he was seeing and I would do the same for him."
That has been the routine for the past two seasons, and Benson believes it has helped each develop an understanding of the other that should benefit both as they prepare for the upcoming season.
"With the time and experience we have, we've developed that unspoken communication that we know what each other is doing before we do it when we're out there together," Benson said. "It's a real good situation."
Campbell concurs, saying the two are working together extremely well.
"We know where each other is coming from," Campbell said. "I think it creates a comfort level that makes it easy for both of us just to go out and compete."
Campbell feels like he is ready for an expanded opportunity this season.
He grown in the weight room, adding 35 pounds to his frame since arriving at Iowa, and benefited from early playing time, first on special teams and then in a reserve role on defense.
"Every year, I've seen my numbers go up, and I feel like I'm a pretty good position right now," Campbell said.
Campbell brings a little attitude to the Iowa defense as well, all designed to help create an edge for the Hawkeyes.
"I like to compete. I can be a little fearless at times, but that's what it takes to be successful on defense," Campbell said. "I think we all grew as a defense last season and that showed in the way we put it all together as a team (in what proved to be the season finale) in the game against Wisconsin."
Campbell made his first career interception in the fourth quarter of that 28-7 win, a pick in the end zone that thwarted the Badgers' comeback hopes in a game which saw Campbell record four tackles and break up three other passes.
"Everything built toward that game," Campbell said. "As a defense, we can build off of that effort."
It was the culmination of a season which gave Campbell plenty to build on heading into 2021.
"I need to keep working — that will never change — but I feel like I'm on the right path," Campbell said. "Since getting here, I've tried to do everything the coaches have asked and trust what they say. The track record is there. Follow the plan."
That approach has been good to Campbell so far.
"I feel like I've been able to take a step each year and I just need to keep on doing what I've been doing," he said. "That's the plan now, keep working to get better."