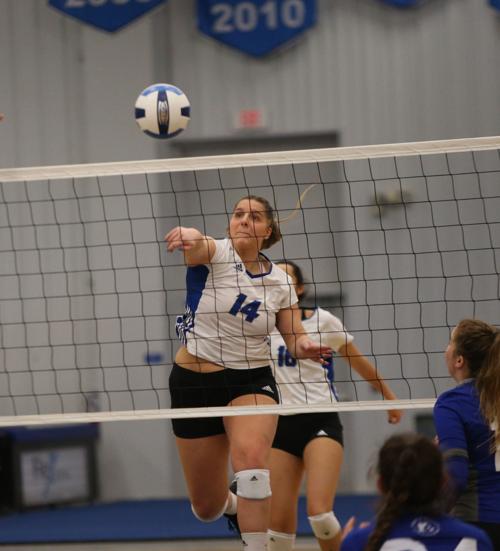 Iowa Western volleyball earned some revenge on Friday night when it defeated Miami Dade (Florida) in the NJCAA Division I volleyball championship semifinal after losing to the Sharks in the past few tournaments.
The Reivers will have a chance to play for the NJCAA title tonight after sweeping the No. 1 seed 25-20, 29-27, 25-22 at the West Plains Civic Center in West Plains, Missouri.
"It's refreshing in the fact that we've lost two or three years in a row at this tournament," head coach Alicia Williams said. "It just made it a bit sweeter that we got the sweep tonight and it was against a team that has given us a lot of sadness at the national tournament the last few years."
Freshman right side hitter Maike Bertens led Iowa Westerns with 12 kills and freshman outside hitter Delaney Esterling, a Lewis Central graduate, finished with 11. Freshman setter Yadhira Anchanter recorded a team-high 15 digs.
The Reivers had a kill percentage of .144 compared, to .055 for the Sharks.
Iowa Western started out hot, led 13-6 early in the first set and clinched victory after a kill by Bertens and an attacking error by Miami Dade.
The second set started much like the first, with the Reivers taking an 8-1 lead. The Sharks battled back late and tied it at 23-23, but a kill by freshman middle hitter Elenoa Sing gave Iowa Western the victory in the second set.
Both teams battled back-and-forth in the third set, but a kill by Bertens and two attacking errors from Miami Dade sealed the match victory for the Reivers.
"We wanted to make sure to shutdown their pin hitters, and they're very talented down the line," Williams said. "That was a very large part and just utilizing everyone on our team. I thought that was great too. The bench was even engaged and talking about what was happening. Some of our players got some of the easy kills because of that communication. We just executed and worked hard."
Iowa Western will play No. 3 Snow College (Utah) in the championship after Snow swept Tyler (Texas) 25-17, 25-20, 25-18.
Iowa Western lost to Snow on Jan. 29 in an early season tournament 3-0 (25-13, 25-17, 25-20).
"I think we've grown a ton since we saw them the last time," Williams said. "I'm sure they have too. They're a very solid program. Every single attacker for them can really put the ball away. But for us, I think they're going to see a different team than they saw before. Just in terms of lineup, too. We have different people in the lineup. Just a different look. I think will hopefully help us give them something different than what they're expecting."
The championship will start at 7 p.m. tonight.
Iowa Western (24-3) 25 29 25 — 3