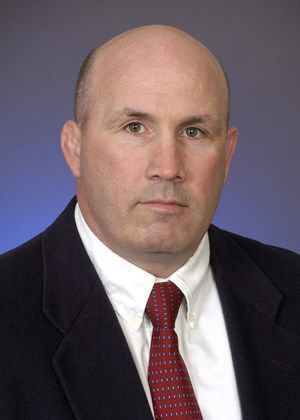 Jim Heffernan knew it was time.
One year shy of half of a century of involvement in wrestling as a competitor and coach, Heffernan announced last week that he was calling IT a career.
The four-time collegiate All-American and 1986 NCAA wrestling champion for the University of Iowa is stepping down after spending the past 29 seasons at the University of Illinois, the first 17 as an assistant coach the last 12 as the Fighting Illini head coach.
"My energy levels are starting to drop a little bit. Things are starting to become a chore and that's not what this has been for 34 years for me,'' Heffernan said Friday.
"This has been fun. It's been enjoyable. It's been my passion, my life's work. But, it's starting to become work. I don't want my energy level to affect the program and where the program is going.''
His hope is that whoever director of athletics Josh Whitman chooses to hire will find the same enjoyment he found in coaching the sport during a career that began as a graduate assistant at Iowa in 1988.
Stops at Lehigh and Oregon State preceded Heffernan joining Quad-Cities native Mark Johnson's initial staff at Illinois in 1993.
"The biggest thing that we have always emphasized since I got here is that this wasn't just about the next four, five years, it was about the next 50 years of these guys' lives. It was about the growth, maturity and independence that prepared them to go out and have productive lives as great fathers, great husbands,'' Heffernan said.
"That was always the most important thing, something that took precedence over winning. We wouldn't sacrifice all that to win a wrestling match and we have always done it that way.''
Heffernan has been associated with his share of success with the Fighting Illini.
Illinois is one of four programs in the nation to have had at least one All-American in each of the last 28 seasons.
He has had a hand in coaching 73 All-Americans and 11 national champions in his 29 seasons working out of the wrestling room at Illinois' venerable Huff Hall.
Even before coaching two All-Americans during a season that ended last month, Heffernan was beginning to think about moving on to the next phase in his life.
He discussed that possibility with Whitman last fall, and set a timetable for announcing his retirement following the conclusion of a 2020-21 season that was among the most challenging of Heffernan's coaching career.
Praising how his student-athletes dealt with the ever-changing protocols that have accompanied the COVID-19 situation, Heffernan said that all factored into his decision.
"Over the years, the things you don't like and the things that are hard just keep adding one more straw,'' Heffernan said. "The pandemic was a big one – a big straw. It was a really hard year.''
That only solidified a decision Heffernan had already made, that 49 years of involvement in a sport he loves was enough and with his wife Rebecca retiring this year as well it was time to enjoy whatever happens next.
"Between the two of us, we've worked 63 years. We've done our part,'' Heffernan said. "The goal here is to do whatever we want.''
Heffernan said he would advocate for either of his two assistants as his replacement if Jeremy Hunter, a 19-year member of the Illini staff, or five-year assistant and three-time Illinois All-American Mike Poeta, want to pursue the positions.
"The experience is there and their desire to be here is obvious,'' Heffernan said.
Heffernan, selected to the National Wrestling Hall of Fame in 2006 and the National Iowa Varsity Club Athletics Hall of Fame in 2016, plans to step away and let whoever is hired do their job.
After being a part of Illinois staffs that had 13 top-10 finishes at the NCAA Championships and a 2005 Big Ten Conference title that ranks as the program's only league team title since 1952, Heffernan expects to still follow the sport from a different perspective.
As he retires, things have come full circle. Iowa was the dominant program in the nation when Heffernan competed for the Hawkeyes, when he returned to the Big Ten as assistant coach and now when he retires.
"It's no different now than it was then. Coach (Dan) Gable's teams dominated the sport in the 1980s and '90s and I feel like it made the sport better,'' Heffernan said.
"Penn State dominated in the 2000s and now Iowa again. I think that has made the Big Ten stronger because you have to become stronger if you want to stay competitive. It's work, but it's made us all better.''