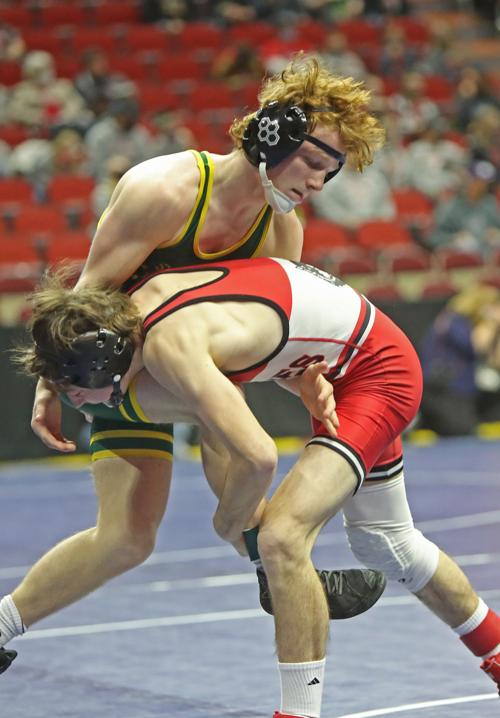 With 17 kids out and ready to wrestle, the St. Albert wrestling team and coach Jeremy Hulshizer are eager to see what this big group can accomplish.
"It's awesome to get back on the mat. We have 17 kids looking for the high school roster, which is a local high here."
Last year the Falcons graduated two seniors including a 5th place finisher. The Falcons also possessed a strong sophomore class that now returns as juniors last year while the Falcons achieved many of their goals, some individual goals fell just shy of the team's hopes.
Therefore, this season, the Falcons want to emphasize intensity as they look to pursue some big goals and expectations for 2021.
"Last year we had two talented seniors," Hulshizer said. One that went on to get fifth place at state (Cael McLauren). He graduated and is now wrestling at Cornell near Cedar Rapids Iowa and we had a very talented sophomore class. Those guys, we were expecting two or three of those sophomores to make it plus a senior or two. Instead of the four or five, like we kind of wanted, we ended up with three advancing onto districts and states.
"Last year our goal was to get 10 dual wins and to be top three at sectionals. We achieved our 10 dual wins and we placed fourth at sectionals. We have some very storied programs in our sectional like Underwood, Missouri Valley, and Riverside that have mostly full rosters and lots of years of experience and tradition. We're trying to work our way into that mix and be competitive."
With this group of 17 wrestlers, the Falcons rightfully have high hopes for the team. While some individuals are impressing and working hard as the season nears, Hulshizer mentions two of the wrestlers who have already been showing great things.
"We're hoping to see senior Keaton Barnes at 160 pounds," Hulshizer said. "He's been a man on fire during practice with lots of pop, lots of explosiveness, and we're really looking forward to seeing what he can do. He's one of our seniors that we're really looking forward to.
"Zach Williams will be a junior and a returning state qualifier at 113-pounds. He's looking to keep improving and he's done a lot of work with local clubs and offseason tournaments and stuff at times. He's looking to reap the benefits of that."
St. Albert is scheduled to begin its season on Dec. 4 in Treynor at 10 a.m.
Saturday, Dec 4, 10 a.m. Treynor Invitational
Tuesday, Dec 7, 5:30 p.m. Double Dual vs. Multiple Schools at Glenwood
Friday, Dec 10, TBD Mid-America Center Classic
Saturday, Dec 11, TBD Mid-America Center Classic
Tuesday, Dec 14, 5 p.m. St. Albert Quad
Thursday, Dec 16, 5:30 p.m. Double Dual at Red Oak
Saturday, Dec 18, 9:30 a.m. Dual at Shenandoah
Tuesday, Jan 4, 5:30 p.m. Quad at Clarinda
Thursday, Jan 6 5:30 p.m. Quad at Clarinda
Saturday, Jan 8, 10 a.m. at Tri-Center Tournament
Saturday, Jan. 15, 10 a.m. Dual at Griswold
Thursday, Jan 20, 5 p.m. vs. Multiple Schools at St. Albert
Saturday, Jan 22, 10 a.m. at Ogden Tournament
Thursday, Jan 27, 5 p.m. Double Dual at Saint Albert
Saturday, Jan. 29, 10:30 a.m. Hawkeye 10 Tournament at Atlantic
Saturday, Feb 5, TBD Sectionals at TBD
Saturday, Feb. 12, TBD Districts at TBD