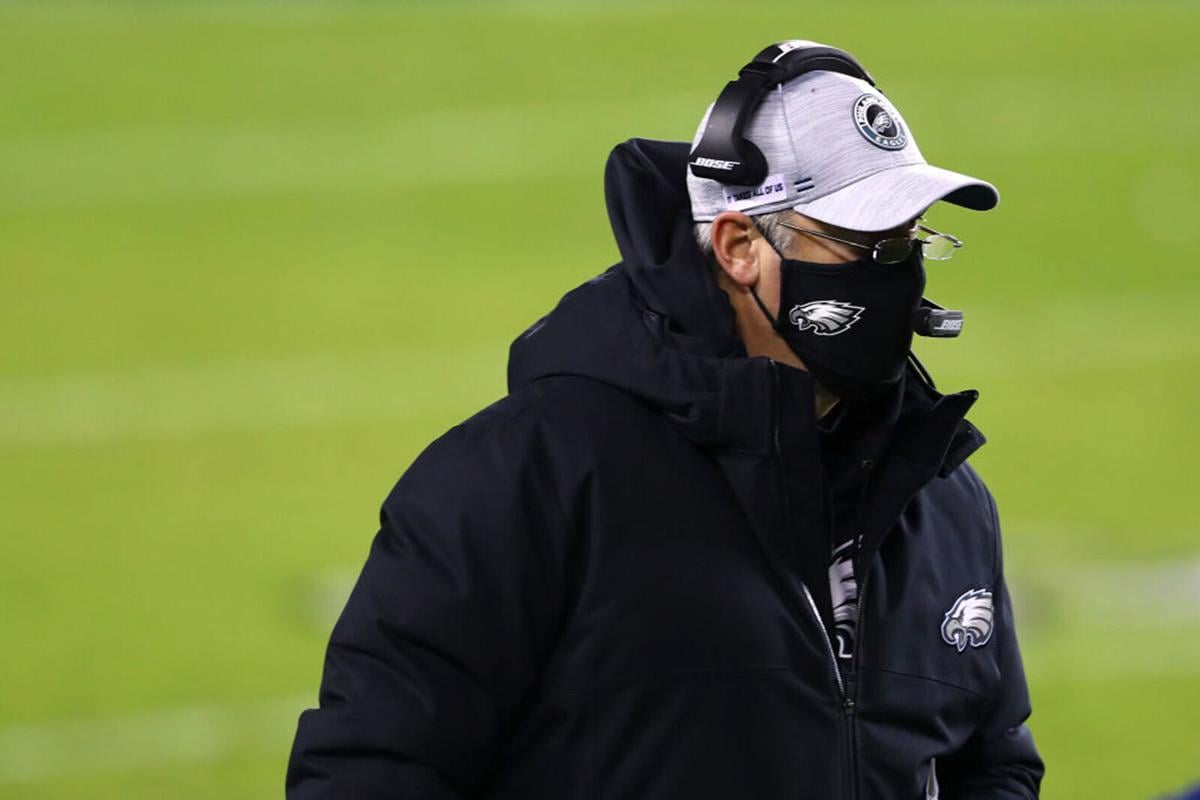 The Eagles have confirmed the firing of the only coach in franchise history to win a Super Bowl championship.
A thousand and 72 days after Jeffrey Lurie and Doug Pederson embraced under a blizzard of green, silver and white confetti at U.S. Bank Stadium in Minneapolis, Lurie met with Pederson in Florida on Monday, their second meeting since the conclusion of a dreadful 4-11-1 2020 season. Eagles owner Lurie set up the session after a previous meeting, last week in Philadelphia, left him uneasy about the coach's plan for getting the team back on track.
The decision to have a second meeting seemed ominous, and sure enough, it was.
"I guess the meeting didn't go well," defensive end Brandon Graham said after the news broke. "I am surprised. He gave me my first championship; he's always going to be remembered here, for winning that Super Bowl."
Graham said players would remember Pederson for "his humility, and for every day being the person he is."
Sources told The Inquirer that last week Pederson proposed promoting quarterbacks coach/passing game coordinator Press Taylor to offensive coordinator, making passing game coordinator Andrew Breiner the quarterbacks coach, replacing retired defensive coordinator Jim Schwartz with either defensive line coach Matt Burke or former secondary coach Cory Undlin, and retaining special teams coordinator Dave Fipp, whose units endured their worst season since Fipp's 2013 arrival.
Lurie pressed Pederson for some outside candidates who might provide fresh ideas. Taylor, 33, has been under scrutiny as the coach most responsible for developing Wentz the past three seasons, in which Wentz rarely has approached the level he consistently reached in 2017. After the Super Bowl, the Colts hired away Eagles offensive coordinator Frank Reich as their head coach.
Pederson was 42-37-1 in five seasons, and 4-2 in the playoffs. Lurie hired him after firing Chip Kelly in the final week of the 2015 season, Lurie beginning a quest for a coach with more "emotional intelligence." Pederson had been an Eagles quarterback under Andy Reid in 1999 and a Reid coaching protege in Philadelphia and Kansas City, and he was the Chiefs' offensive coordinator when the Eagles hired him. Other candidates included Ben McAdoo, who was then hired and quickly fired by the New York Giants, and Adam Gase, who has been hired and fired by both the Miami Dolphins and the New York Jets in the intervening five seasons.
Pederson seemed the perfect antidote to Kelly's uncommunicative persona around the team; he was empathetic, often relating a player's struggle with an injury or a benching to his own experiences as a journeyman quarterback for Miami, Green Bay, Carolina, Cleveland and the Eagles. He took pride in fashioning a team that played for each other, rather than for individual goals.
You could argue that Pederson took the fall for general manager Howie Roseman, who has drafted one Pro Bowl player — quarterback Carson Wentz, taken second overall in 2016 — since 2014, and whose free agent signings since the magical Super Bowl season of 2017 have been largely disastrous. But even if Roseman hasn't done a good job lately, the Eagles' offense was unimaginative and unproductive in 2020; it has declined each year since 2017, and Wentz, considered to be among the top handful of quarterbacks in the NFL just a few years ago, ended 2020 on the bench.
As the season ended, there were reports that Wentz felt his relationship with Pederson was beyond repair, and that he would ask for a trade. Obviously, Pederson's firing might head off a crisis with Wentz, but sources close to the situation have emphasized that the Lurie-Pederson disconnect was about more than just the quarterback. Trading Wentz this offseason would incur a $34 million dead cap charge, the highest in NFL history.
Pro Football Focus tweeted Monday the Eagles offensive EPA (expected points added, a measure of offensive efficiency) since the team finished fifth in that category in 2017. In 2018, 13th. Then, 16th, and finally, 29th. The offensive crisis was something players knew could generate big change, despite their general support for Pederson. Lurie is all about offense and innovation, going back to the Reid and Kelly hirings.
As the season drew to a close, Pederson was asked several times about his job security. He had two years remaining on his contract; no head coach in the last quarter-century has been fired within three years of winning a Super Bowl.
There were reports as the final days of the season wound down that Pederson had been assured that he would return.
"As far as the reassurances go, listen, I expect to be here in 2021 until something else happens," Pederson said the day before his last game, Jan. 2 vs. Washington. "But that's the confidence I have in my ability, and that's how I'm going to approach the next few days, and really, 2021."
If Lurie wanted an offensive coordinator from outside the organization -- a year after convincing Pederson he had to fire offensive coordinator Mike Groh, though Pederson had publicly said Groh would return -- that might have forced the issue. In his New Year's Day presser, Pederson spoke of how the offense needed to reflect his voice.
"A the end of the day I want to make sure there's one voice, and that's my voice, that's heard offensively, and nobody else's," Pederson said. "That's the part that I've got to get across to the staff, and I have done that."
Wentz's unprecedented regression into one of the league's least effective starting quarterbacks undoubtedly played a role in Pederson's demise. They arrived the same year, with Wentz hailed as the future of the franchise, after Roseman engineered two trades to move up from 13th in the 2016 draft to eighth and then to second. Those moves were masterstrokes of Roseman's tenure, a big part of how he won the league's executive of the year award after the Eagles won Super Bowl LII, with Wentz playing at an MVP level until tearing two knee ligaments in the 13th game. Backup Nick Foles outdueled New England's Tom Brady on Feb. 4, 2018, and the confetti rained down on a franchise that hadn't won an NFL championship since 1960.
Four days later, Pederson spoke from a platform erected in front of the Art Museum steps, on a bitter cold but brilliantly sunny day, fans chanting "Doug! Doug! Doug!"
"This is our new norm! This is our new norm, to be playing football in February," Pederson told the crowd.
The next two seasons, the Eagles went 9-7. In 2018, Foles again replaced an injured Wentz for the playoffs, and they beat the Bears before losing to New Orleans. In 2019, Wentz played the whole season and got the Eagles into the playoffs, leading them to four successive victories, but Wentz left the playoff game against Seattle in the first quarter after suffering a concussion, and the Eagles lost.
Then came 2020. Pederson's players still played hard for him, though the perception that he and the organization tanked the season-ending loss to Washington — rookie QB Jalen Hurts was lifted in the fourth quarter for Nate Sudfeld, who hadn't played in two years — caused Pederson to lose ground with both the team and the fan base.