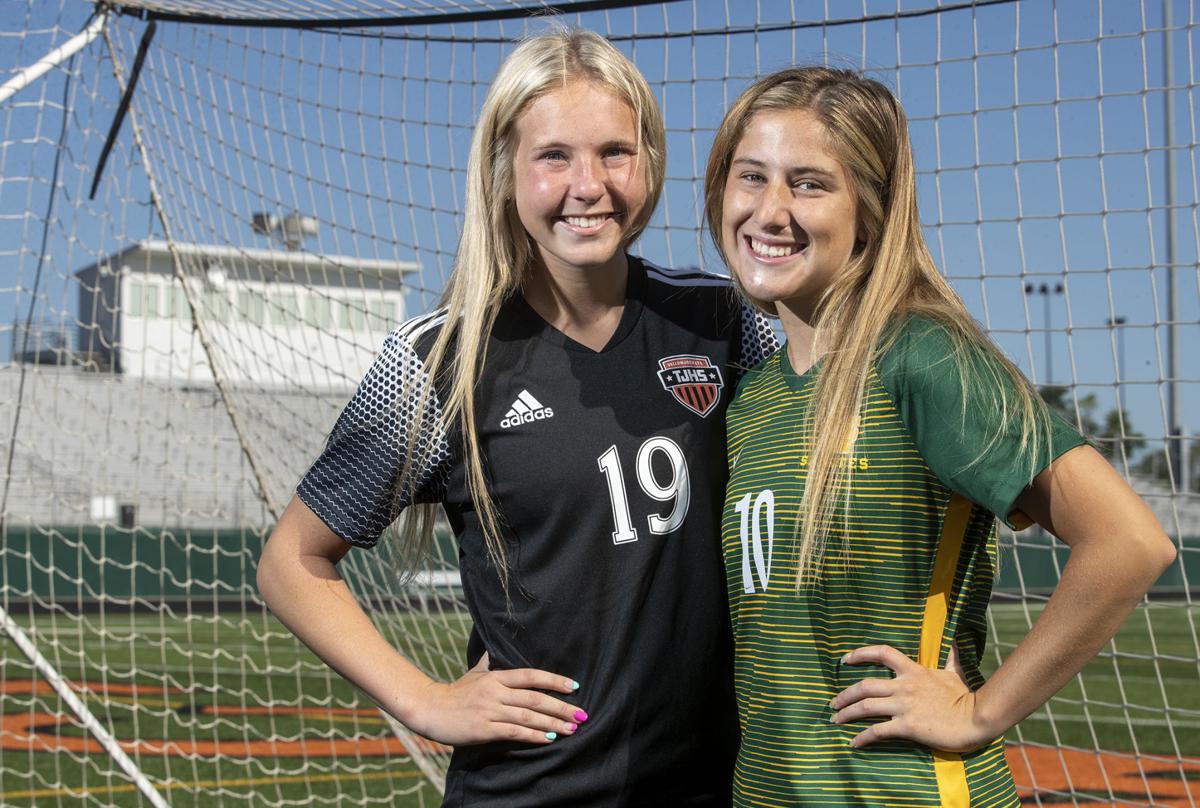 It's always exciting when an athlete from a city school gets to continue playing their sport collegiately at the Division-I level.
So for this year's girls soccer class to have not one but two players commit to playing Division-I soccer is especially exciting.
Thomas Jefferson junior Maggie Gundersen will be graduating high school early to join the University of Omaha women's soccer team forgoing her final high school season.
St. Albert senior Makenna Shepard won't be too far away either, as she has decided to continue her career at Drake.
Their performance on the field this season and the accomplishment of going D-I is enough for the Nonpareil to award both Gundersen and Shepard the award of Council Bluffs girls soccer co-players of the year.
Shepard was no stranger to finding the back of the net in her three seasons as a Sainte. She finished her career with 78 goals and 35 assists.
"It's definitely a very special honor," Shepard said about being named co-player of the year. "Especially with this season. It's just a special season."
St. Albert went 9-10 this season and was one game shy of making it to the state tournament.
This success was in large part due to Shepard stepping up. She led the Saintes in goals with 32, the 14th highest in the state of Iowa.
"My senior season I definitely took on a role as a leader and had a bunch of the younger girls look up to me," she said. "This season we demanded a lot from the underclassmen. They really did well."
Shepard pointed to a few characteristics that make a successful offensive player.
"You have to be very dynamic and you have to be able to create things," she said. "You have to be able to finish the goal too."
Shepard's soccer journey started long before his time in high school. She first started playing soccer when she was three years old.
It makes sense Shepard grew up with the sport, seeing both her parent played soccer as well as her four younger siblings.
"It's definitely competitive," Shepard said. "Me and my younger brother Brayden are definitely very competitive with soccer."
Playing college soccer has always been a goal for Shepard but it became a serious reality when she was in middle school.
After deciding that was her goal, the next step for Shepard was deciding where to play.
"My recruitment process was a little shaky," she said. "I committed to Iowa State my sophomore year and with the coaching change and things changed around, I decided that Drake would be a better fit for me. It was kind of stressful at times but it's a blessing to be able to go play at the next level."
The COVID-19 pandemic made the recruiting process difficult when Shepard decided she was going to reopen her recruitment.
"It was hard to reach out and have coaches come watch you play," she said. "So there was tons of Zoom calls and phone calls and all this stuff to make it seem like it was the best fit for me."
Shepard added she was excited for Gundersen to also represent the city at the next level.
"It's definitely cool to have Maggie and I go play at the next level," she said. "She's definitely a great player and she definitely will do good things at UNO."
Gundersen was also excited to be named co-player of the year. She said the amount of talent in the city makes the award especially meaningful.
"It's super special because there's a lot of talent and a lot of really good girls out there competing," she said.
Thomas Jefferson also had a lot of success this season going 10-8 and falling one game short of going to state.
Gundersen played in the midfield and was responsible for helping the offense and defense.
Offensively, she scored 17 goals and had 19 assists in two seasons. Defensively, she helped the Yellow Jackets shut out 17 opponents.
Thomas Jefferson also had five games where they held an opponent to just one goal.
"We knew we could be good as long as we came together and worked together at practice and put it all together in games," she said about this past season. "It started to come together in the middle of the season and it worked into the end of the season."
Like Shepard, Gundersen also found herself in a leadership role, despite only having one previous season of high school experience.
She said she enjoyed that responsibility.
"I liked it," she said. "I liked trying to help my teammates and make them better on the field and helping with them with questions or where they needed to be or just what to do."
Gundersen also started playing soccer at an early age, remembering playing as young as four or five years old.
She had relatives that had played sparking her interest that would lead her to this point.
"I just kind of got started playing with some friends and from there I just kept playing," she said.
While she started playing at an early age it wasn't until middle school that her passion for the game truly started to grow.
"Just like the competitive aspect and creating friendships and bonds and competing together," she said about what she liked about playing.
Gundersen primarily plays on the defensive side of midfield, a position she enjoys playing. For her club team, she will also play center back.
She also had some characteristics that make a player good defensively.
"I think just being patient and waiting for them to mess up or make a move so you can step on it," she said. "And, just supporting your teammates when they're defending even. Hunting the ball and going for it, leaving it all out there."
Gundersen started looking at colleges her freshman year but the pandemic slowed down the process.
But, after talking to coaches and doing some Zoom calls, she found a good fit at UNO.
"I wanted to be close to home so my parents could come watch me play," she said. "The coaching staff there is very nice. They really helped me decide. I know a lot of players going there and they're really good and they have a style of play I like."
Gundersen added she is also excited to see players like Shepard play at the next level and acknowledges how much talent the city had this past season.
"There are a lot of talented players and a lot that are going to do big things like Makenna," she said. "She's going to go to Drake and do some really good things. I'm excited to watch her play this year and just see what she does."