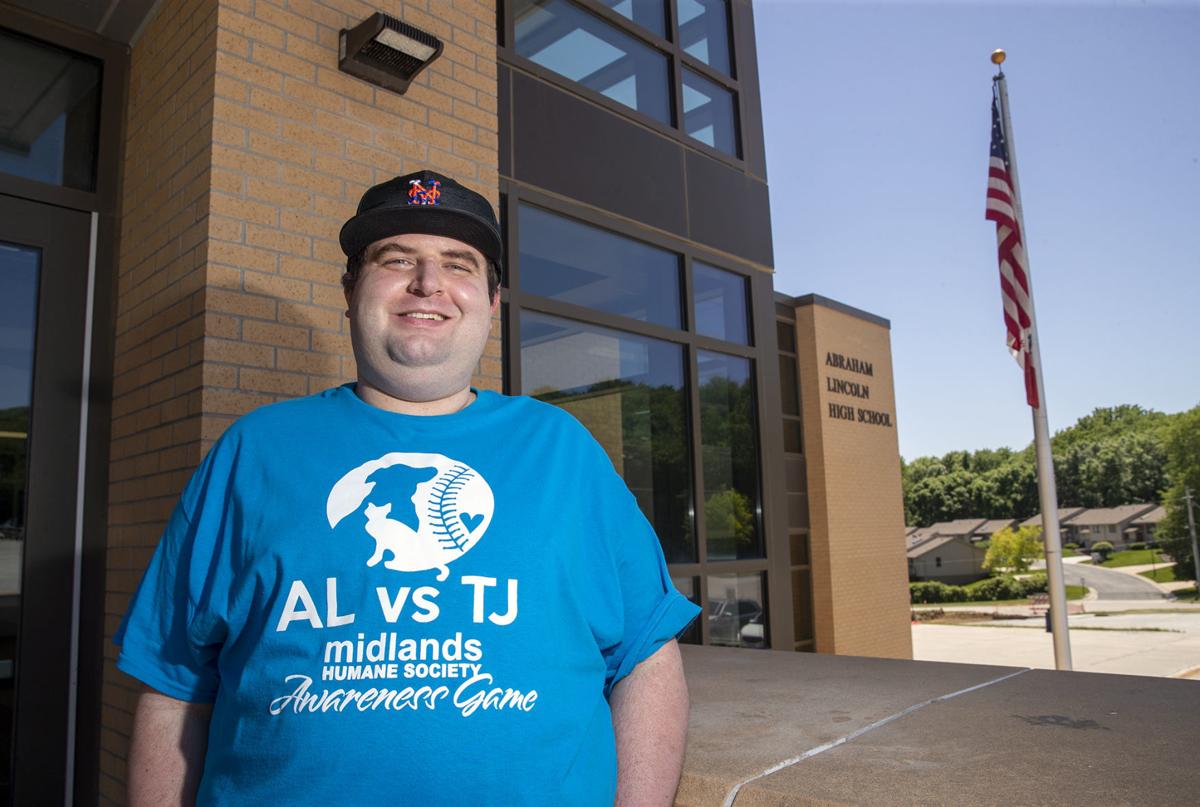 *Editor's note: This article was originally published Wednesday in the Nonpareil's annual Faces section, a 6-day series that concludes Saturday. The section can be found in Wednesday's e-edition.
Abraham Lincoln fans recognize the voice.
Regardless of the time of year, Mike Lichtenberger is telling Lynx fans who scored or who's coming into the game as the school's public address announcer for a number of sports.
The Medford, New York, native just completed his fourth season as a math teacher at A.L. He lends his voice to football, volleyball, girls and boys basketball, soccer, baseball and softball.
A desire to get involved with more activities around school led Lichtenberger to helping with PA duties for summer sports at the end of his first year at A.L., after four years at Kanesville Alternative Learning Center.
"I did the P.A. for baseball those first couple years, and that was it," Lichtenberger said. "It kind of just snowballed from there. I started getting involved with basketball next, and I kind of just stumbled into it. The gentleman who had been doing P.A. for basketball had to miss a couple games with a conflict, so they asked me if I wanted to fill in. I filled in a couple games, and I just never stopped doing it. I guess people liked it. Volleyball and football came next, and now I feel like I do almost every sport."
Located approximately 50 miles from midtown Manhattan, Medford is situated in the center of Long Island. Following high school, Lichtenberger attended Hartwick College 4 ½ hours away from home in upstate New York between Binghamton and Albany.
After he graduated college, Lichtenberger had struggled finding any teaching jobs in the northeast when a cousin who relocated to Iowa told him about the opportunities available in the Midwest. That led him to the job at Kanesville, which led him to his current position at A.L., where he teaches Algebra 2 and College Statistics.
"I think it was just something that naturally occurred," said Lichtenberger about getting into teaching. "My mom was a teacher before she had kids. It's kind of the how the importance of school and education was instilled in me from a very young age by both of my parents.
"Because of that, I always liked to help people that were less fortunate than I was. Knowing that my mom was a teacher, going into teaching felt like the natural thing to pursue."
Although he says he was never an athlete, Lichtenberger has always had a love of sports. While most kids were playing video games, Lichtenberger was catching SportsCenter to get a recap of highlights from the previous night.
That's why announcing came as a natural interest for the New York native. That, and it gave him an avenue to get to know his students and the people in their lives.
"The big thing for me is being able to be more involved in my students' development in a different environment other than the classroom," he said. "It helps me get to know them on a more personal level. The other thing is a lot of times with students, you don't get to meet their families, and being more involved in athletics, I've been able to meet a lot of the parents and some grandparents and siblings that I probably wouldn't have gotten to know if I wasn't involved. That's huge for me."
Lichtenberger admits he couldn't have predicted years ago that he'd be living a life as a teacher in the Midwest. But he's enjoyed the last eight years as a teacher with his second family at Abraham Lincoln.
"I feel like we're a cohesive unit," Lichtenberger said. "We're a good team. We help each other out. I love the colleagues we work with. We have each other's back. That's huge for me. If we didn't have that cohesiveness, I don't think we'd be nearly as happy as we are. We're in a time where a lot of people are out of work or may not have a job they're happy with, but I consider myself lucky to not only have a job but have one I love."
Get in the game with our Prep Sports Newsletter
Sent weekly directly to your inbox!