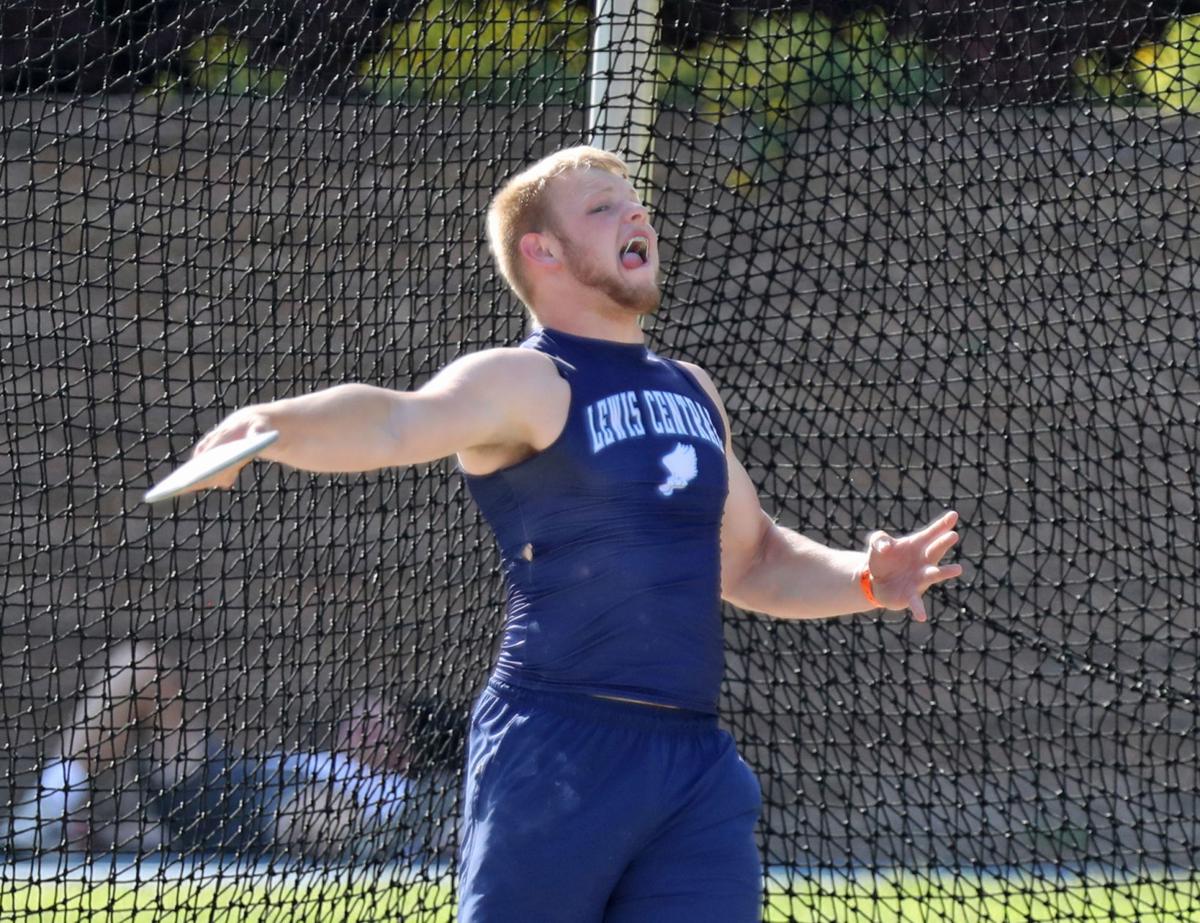 Just days after starting his college football journey, Lewis Central's Logan Jones was reminded of his elite status as a prep athlete.
Jones on Monday was announced as the Gatorade Iowa Boys Track and Field Athlete of the Year. The laurel comes despite the absence of a 2020 track season, which would have been Jones' final chance to compete in the discus and shot put.
In 2019, Jones claimed Class 4-A state gold in both the discus (185 feet, 10 inches) and shot put (60-2). Each of those throws ranked in the top 60 nationally among prep competitors.
He becomes the second Lewis Central athlete to earn a Gatorade state player of the year after Max Duggan earned it in football after the 2018 season.
"It was something I hoped to get coming into the year, but obviously with no track season, I didn't know if they were going to do it, so I was kind of bummed out," Jones said. "They still had applications, and I signed up, hoping I could leave my mark on Lewis Central. Being able to get this award is something that you can only dream about almost. It's such a prestigious award, and me being able to get it is unbelievable."
Like most athletes around the state, Jones was sad to not throw as a senior, but it gave him a chance to better prepare for this fall as a freshman defensive lineman at Iowa.
"At first, it sucked," Jones said. "Not only me, but for my teammates who only do track. Or that's their sport. Some people didn't get to leave the mark they wanted to. It's definitely a bummer not being able to do something that I love so much and won't ever be able to do again, but I've got so much more going on now with football, family and everything like that. I just try to look at the positives of things, too."
Jones arrived in Iowa City on Saturday to prepare for the season. The 6-foot-3, 265-pounder was The Daily Nonpareil's 2019 City Player of the Year, earned first-team all-state honors and participated in the U.S. Army All-American Game in January which featured the top senior football players from around the country.
His days will now be filled with workouts and getting up to speed with the Hawkeyes' defense, all while following social distancing guidelines and wearing a mask when required.
"I'm starting to comprehend and understand it more, and it gives me a chance in the future of getting on the field," Jones said.
L.C. boys track coach Matt Argotsinger was happy to see Jones earn the honor for not only his athletic achievements but also his activities off the field. He helped build Dream Playground, the largest ADA accessible playground in Iowa, in addition to volunteering as a youth track and football coach. He also maintained a 3.14 GPA in the classroom.
"The nice thing about the award is it's not just athletic accomplishments; it's also what you're doing for your community and the people you're helping in your community," Argotsinger said. "As far as what it means for Lewis Central, it's the first one for the boys program and our second one overall. It's pretty cool that we'll have two Gatorade banners in our gym. I think that speaks volumes for the school and what we're able to do with our athletes, not only on the field but off the field."
Get in the game with our Prep Sports Newsletter
Sent weekly directly to your inbox!