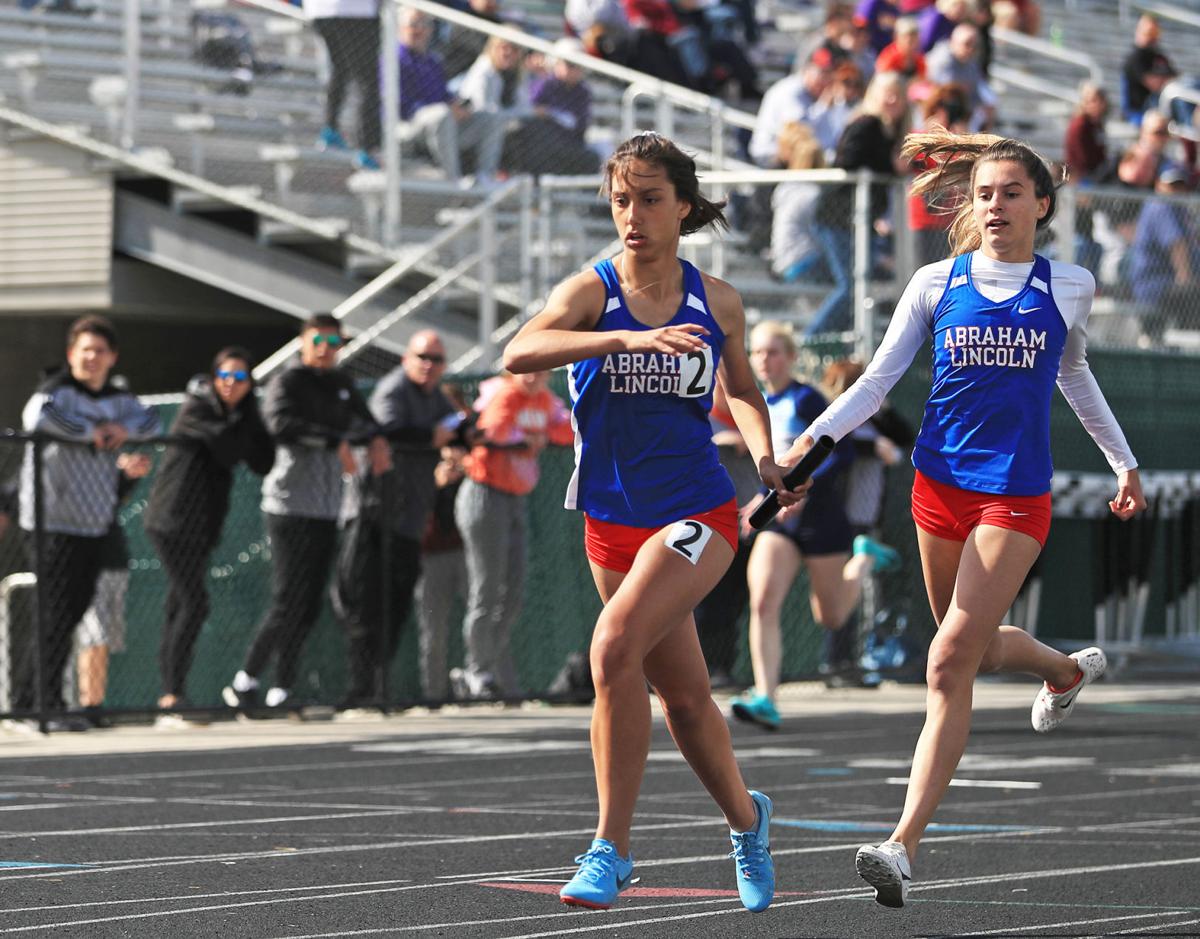 Abraham Lincoln senior Jillian Shanks and junior Jacee Tindall started the outdoor track season with a bang on Tuesday, scoring 28 of the team's 68 points at the Sergeant Bluff-Luton Warriors Relays.
Shanks scored 16 of those by placing second in both the 100 and 200-meter. She ran a 13.52 in the 100 and a 27.23 in the 200.
"She's unreal. She's got unreal speed," Lynx head coach Traci Stoop said. "She works really hard. She was originally a 400 runner, but I figured we'd try her in the shorter distance sprints just because she has quick speed and it turns out she's leading the state in a lot of things. She's really doing well."
Tindall showed strength and speed. She started her day by placing second in the shot put with a throw of 32 feet, 11 inches and then hurried over to the track where she finished fourth in the 3000 with a time of 14:38.72.
"She threw 32-11 for shot and then not even five minutes later ran over and did the two mile and placed fourth," Stoop said. "Which is really rare to have a shot-putter be a long distance runner. She's a stud. She's multifaceted and it's fun to have her."
Abraham Lincoln was missing some key contributors, who also play soccer and helped the Lynx beat Sioux City Heelan 2-1 on Tuesday.
Lynx girls track finished fifth out of seven teams at the meet, edging out Heelan by four points. Sergeant-Bluff Luton won its own invite with 148 points, Le Mars was runner up with 106, Odebolt Arthur Battle Creek Ida Grove finished third with 94, Hinton scored 88 points to place fourth and Sergeant Bluff-Luton JV managed to score 12 points.
"They did a great job all things in perspective," Stoop said of her team. "We didn't have our soccer girls, so it was pretty tough to compete. A lot of them stepped up and did three or four events which was really nice because it's hard to do."
Other scorers for Abraham Lincoln included sophomore Abbie LaSale, who won the 400 hurdles in her first time running the event at a varsity meet. She finished with a time of 1:11.70. The time puts her seventh in the state for 4A.
"First time ever running it with that time was unreal," Stoop said. "She's got crazy good form, speed and a pretty good athlete for just starting out."
Senior Berenice Monge placed third in the 400 hurdles with a time of 1:20.22.
Senior Shelby Wilfong scored four points in the long jump by placing fourth with a distance of 16 feet, half an inch and added one more in the 200 after running a 29.47 to place sixth.
Sophomore Kaylee Woolsencroft placed fifth in the 800 with a time of 3:06.74 and sophomore Kylie Richardsen finished sixth in the 400 with a 1:11.69.
Abraham Lincoln also scored 16 points off relays, which was highlighted by an 800-meter sprint medley which finished in third place. That team consisted of Wilfong, Shanks, LaSale and sophomore Kylie Richardson.
"(With it) being two years since we ran an outdoor meet, it was just kind of a learning experience for a lot of these girls," Stoop said. "We have such a young team. I thought we competed well and hopefully, we score more points the next meet. That's my hope for every meet. The girls did well."
Abraham Lincoln is in action next at 4:30 p.m. today at the Koos Invitational Girls Relays in Harlan.
"I just hope that we can compete with the big dogs," Stoop said about Thursday's meet. "I hope we come out and run our hardest. I'm just looking forward for them to improve every meet is the ultimate goal."