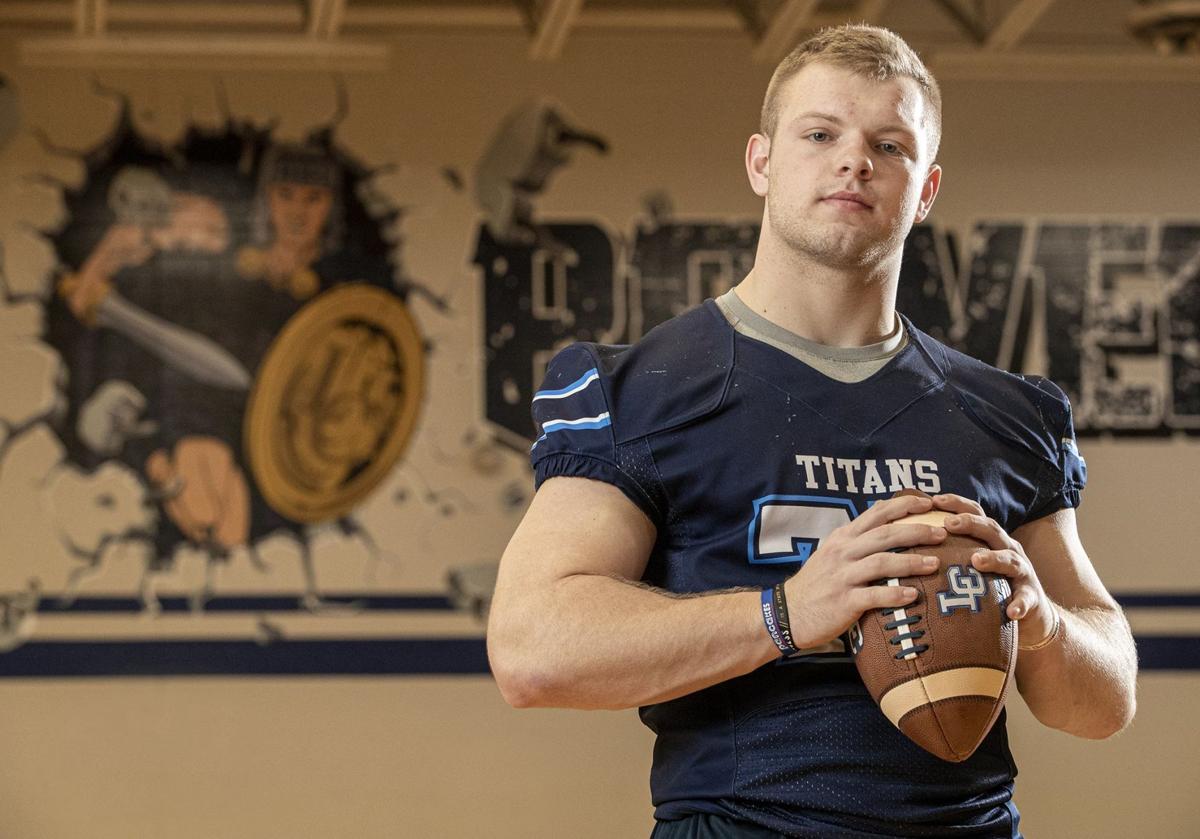 To say 2020 has been unique from a prep sports perspective would be an immense understatement.
Following the state basketball tournaments, a four-month hiatus from sports followed. Competition halted. Activities that athletes and coaches took for granted were unavailable.
The cancellation of spring sports was even more pronounced for graduating seniors. Unless athletes competed in baseball or softball – which resumed in June – their prep athletic careers were suddenly finished.
While the decision to cancel spring sports had the health and best interest of student-athletes in mind as the COVID-19 pandemic strengthened, it also left the seniors without a sense of closure.
Cue Logan Jones. The Lewis Central standout athlete stole headlines with his play as a defensive lineman on the football field, but he also played basketball and was a standout thrower in track, so much so that he was named the Gatorade Iowa Boys Track and Field Athlete of the Year.
Speaking with a reporter after being named The 2019 Daily Nonpareil City Football Player of the Year, Jones illustrated why, instead of focusing all of his remaining months in high school to prepare for a promising college football career at Iowa, he instead chose to compete in basketball and track and field at L.C.
"There's no substitute for competition," Jones said. "When you get a guy out competing in multiple sports, you develop habits and other things like how to work together as a team. And there's physical things like how to move and change your body direction. You develop relationships and other things that will benefit you through any sport and in life."
Jones' contributions as both an athlete and teammate earn him yet another laurel today as The Daily Nonpareil's City Male Athlete of the Year.
His football accomplishments are well documented. As a senior, he competed in the All-American Bowl in January, which featured the best senior prep talent from across the country. The 6-foot-3, 260-pound standout earned all-state honors and helped guide Lewis Central to a combined 36-8 record across his four years on the gridiron.
And just last week, he received great news about his first year in Iowa City. After the Big Ten originally canceled its football season due to COVID concerns, the season is now back on. His true freshman season will now commence in October.
"It's almost scary to think about how he'll develop," Lewis Central coach Justin Kammrad said. "Being in a program for 12 months with a strength and conditioning program, with a nutritional program, with the coaching and spring ball, he's a kid who had always spent a bunch of time working on it in high school, but that was on his own with some optional workouts that we would have.
"Just to think of him and his natural ability and work ethic and how much he can develop and grow, it's almost scary to see where he'll end up. When you give someone an opportunity to really hone in on your craft and skill and the understanding of a defense and what you're expected to do, the sky is the limit for him."
While Jones' athletic abilities are impressive, his coaches and peers consider h-im equally, if not more impressive as a teammate. He averaged more than 11 points per game during his final prep basketball season, which would prove to be his season during his senior year. He had high ambitions for what would have been his final season competing in the discus and shot put after he won Class 4-A state gold in those events as a junior.
Additionally, he helped make his teammates the best that they could be and always was willing to give advice when it was solicited.
"He's a phenomenal teammate," said Lewis Central boys track coach and defensive line coach Matt Argotsinger. "With track, the throwers go off and kind of do their own thing after warmups, but he's still a leader, making sure guys do their warmups correctly.
"Throw in the fact that he's really selfless. He loves talking to and helping the younger kids, whether it be at an event or going to the youth practices for football. On top of that, he'll coach up our freshmen and sophomore guys and make sure they're ready to go. It's why we continue to have good throwers."
Be the first to know
Get local news delivered to your inbox!