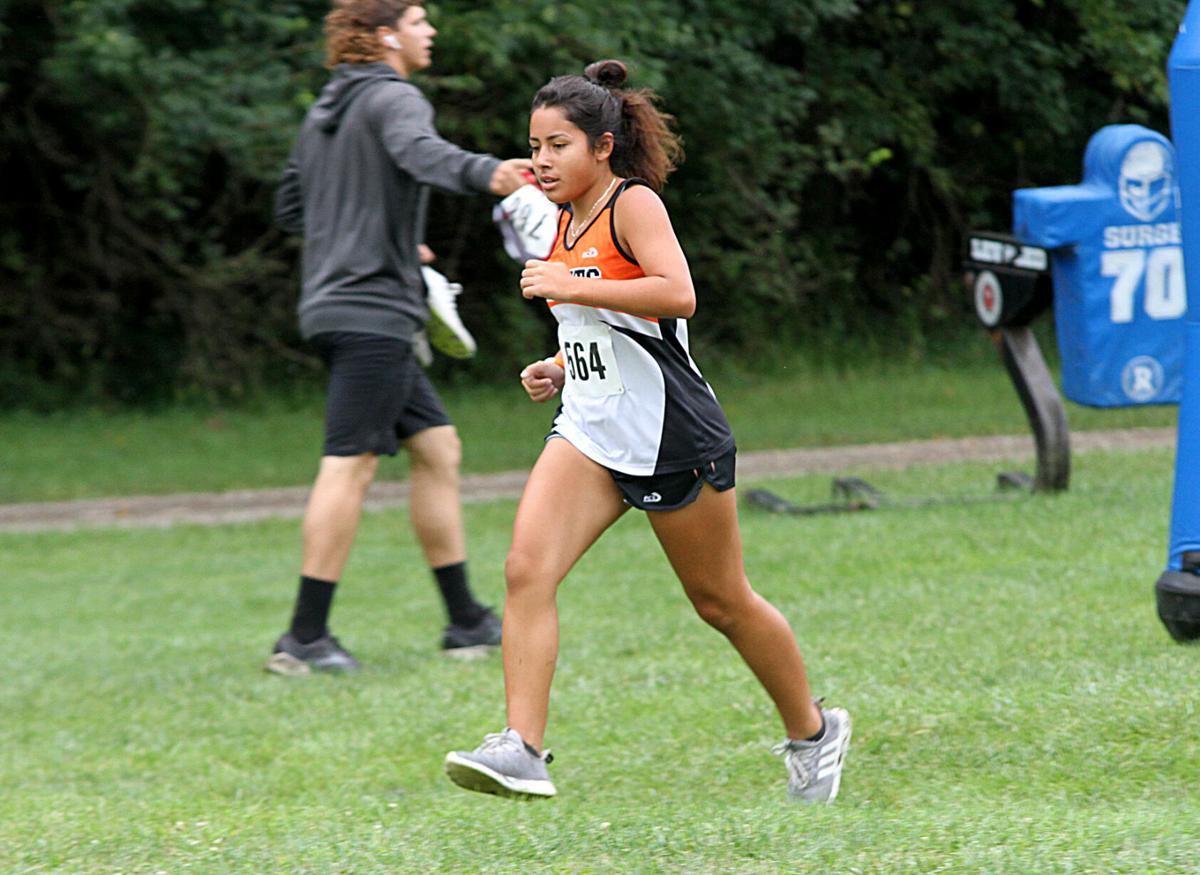 The Abraham Lincoln and Thomas Jefferson cross country seasons came to a close on Wednesday in the state qualifying meet in Indianola.
On the boys' side, sophomore Cody Smith was the Lynx's best finisher in 32nd with a time of 18:16. For Thomas Jefferson, senior Roi Soriano finished 44th with a time of 18:50.
On the girls' side of the competition, junior Jackie Moreno was the top finisher for the Yellow Jackets in 43rd place with a time of 22:55 which was a career-best for her. The best finisher for the Lynx was freshman Kaylynn Kepler Thompson with a time of 23:11.
"Before the meet, we told the girl and boy runners not to expect a season-best or a personal record in their races today as the terrain of the Indianola course was just too difficult to likely accomplish that, '' Yellow Jackets coach Douglas Muehling said. "We told them to go out and compete against the other runners and themselves, to look in the mirror, that's your competition. But in her final high school race, Moreno made a believer out of herself and the coaches."
5 Des Moines Roosevelt 139
1 Des Moines Roosevelt 40
1 Jackson Heidesch, Dowling Catholic, 15:36
2 Alex McKane, Iowa City West, 16:00
3 Flynn Milligan, Dowling Catholic, 16:30
4 Tyler Schweizer, Dowling Catholic, 16:34
5 Seth Cheney, Iowa City West, 16:40
6 Donovan Card, Norwalk, 16:44
7 Jack Brown, Norwalk, 16:45
8 Logan Hoger, Indianola, 16:46
9 Gabe Shaw, Dowling Catholic 16:54
10 Curtis Johnson, Indianola, 16:54
32 Cody Smith, Abraham Lincoln, 18:16
44 Roi Soriano, Thomas Jefferson, 18:50
49 Aiden Watts, Abraham Lincoln, 19:20
51 Lucas Fitch, Abraham Lincoln, 19:28
53 Ethan Bose, Thomas Jefferson, 19:44
55 Daxon Kindred Abraham Lincoln, 20:01
56 Dalton McCormick, Abraham Lincoln, 20:19
57 Etienne Higgins, Abraham Lincoln, 20:27
58 Robbie Siford, Abraham Lincoln, 20:29
60 Mark Markuson, Thomas Jefferson, 20:37
64 Emmanuel Vallin, Thomas Jefferson 21:55
66 Nick Berg, Thomas Jefferson 22:25
67 Asa Neville, Thomas Jefferson 22:42
68, Aaron Burney, Thomas Jefferson 23:46
1 Abi Hahn, Des Moines Roosevelt, 18:50
2 Adrienne Buettner-Cable, Des Moines Roosevelt, 19:08
3 Liv Hall, Dowling Catholic, 19:15
4 Arianna Jackson, Des Moines Roosevelt, 19:20
5 Lauryn Frerichs, Dowling Catholic, 19:25
6 Cindy Wang, Iowa City West, 19:29
7 Emily Naughton, Indianola, 19:29
8 Mallory Wurth, Waukee, 19:30
9 Sally Gaskell, Dowling Catholic, 19:39
10 Breelie Mauro, Norwalk, 19:48
43 Jackie Moreno, Thomas Jefferson, 22:55
46 Kaylynn Kepler Thompson, Abraham Lincoln, 23:11
49 Sonia Fitch, Abraham Lincoln, 23:39
50 Bella Cain, Abraham Lincoln, 24:12
51 Jenny Mendoza, Abraham Lincoln, 24:14
53 Gabby Louden, Abraham Lincoln, 24:26
54 Eliana Brown, Abraham Lincoln, 24:28
55 MacKenzie Harstead, Thomas Jefferson, 24:47
58 Eleana Lemus, Thomas Jefferson, 26:19
59 Sydney Hosick, Thomas Jefferson, 26:55