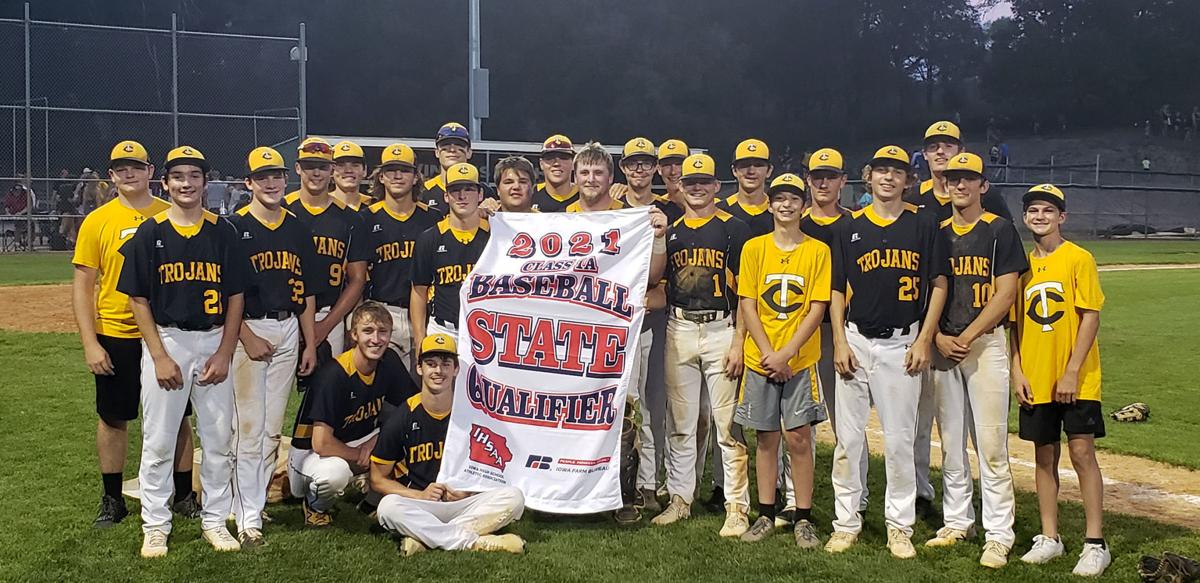 SIOUX CITY — Class 1A No. 10 Tri-Center earned its third trip to state since 2016 after defeating No. 5 Kingsley-Pierson 5-0 on Tuesday in Sioux City in the Class 1A substate 8 championship.
"After basketball season some of these kids had a bad taste in their mouth," Trojans coach Max Kozeal said. "It turned out to be a great motivator for them. You grow from those tough times and that's what happened. Our guys grew from that and they came into this season hungry and with some extra fire and I'm very proud of them."
The teams remained in a scoreless deadlock until the bottom of the third where T.C. brought home three runs to take the lead. Highlighted by a pair of one-out RBIs, one of which came from senior Trent Kozeal.
The Panthers responded with a pair of hits and got runners on the corners and were threatening to cut into the lead. However, two strikeouts from senior Leyton Nelson and a deep fly out to right field helped the Trojans escape the inning with their 3-0 lead still intact.
"Coach told us they were an aggressive team," Nelson said. "We knew they were going to try to hit the first-pitch fastball whenever I threw that first pitch. I knew I just had to throw strikes and good things would happen."
The Trojans looked to add to their lead as Trent Kozeal hit a leadoff single in the bottom of the fifth inning and senior Brett McGee followed with a hit of his own A couple of wild pitches allowed Tri-Center to add a pair of runs to its lead to go up 5-0.
The Panthers got a lead-off single to threaten a run again, but another strikeout from Nelson and a ground out to senior Mason Rohatsch collected a grounder down the third baseline to put the Trojans three outs away from state.
"We came up short in basketball and other sports and I didn't want to feel that again," Trent Kozeal said. "We came out ready to play and hungry for that trip to state.
"We knew it was going to take a great fielding night and we did well on the field. We came in really focused and Leyton pitched an amazing game, they could not touch him tonight and the defense was right behind him and it feels good to have a guy like that leading the defense."
"We call Leyton 'The Wizard'," Max Kozeal added. "He just does things that most kids at his age don't. With his mental toughness and being able to spot all of his pitches, he's a tough pitcher, and he knows he has a great defense behind him."
T.C. looked to add some more insurance to its lead in the bottom of the sixth with a lead-off single, but the Panthers cracked down and stranded the runner at second.
Down to their final three outs, Kingsley-Pierson stormed out with two quick singles. Nelson stepped up with a strikeout and a pop fly down the first baseline sealed the deal for the Trojans.
Trent Kozeal co-led T.C. with three hits along with senior Brett McGee. Rohatsch, Nelson, senior Kaden McDermott, all had one hit for Tri-Center.
Nelson got the win on the mound after pitching all seven innings and allowing just four hits while striking out nine Panther batters.
After some of the team's athletes being so close to state in other sports achieving this has some extra meaning.
"This is a feeling I've never felt before," McGee said. "Our freshman year was the last time we made it (2018) which was cool, but as a senior, it's a totally different feeling."
"Dang, it feels good," Nelson added. "We can't thank everyone who came enough, it was a great crowd. "
"This feels amazing, but we're not done yet." Trent Kozeal added.
For Coach Kozeal this is the third team he'll see make its way to state in his head coaching tenure.
"These kids get another game and I love this group of kids," Max Kozeal said. "There's a lot of dads that were here that have coached some of these kids since they were eight years old or younger. This gives us another day with them, another week, another game and we're very thankful for that."
The Trojans have yet to surrender a run in the postseason. Check back later for state tournament match-up information.