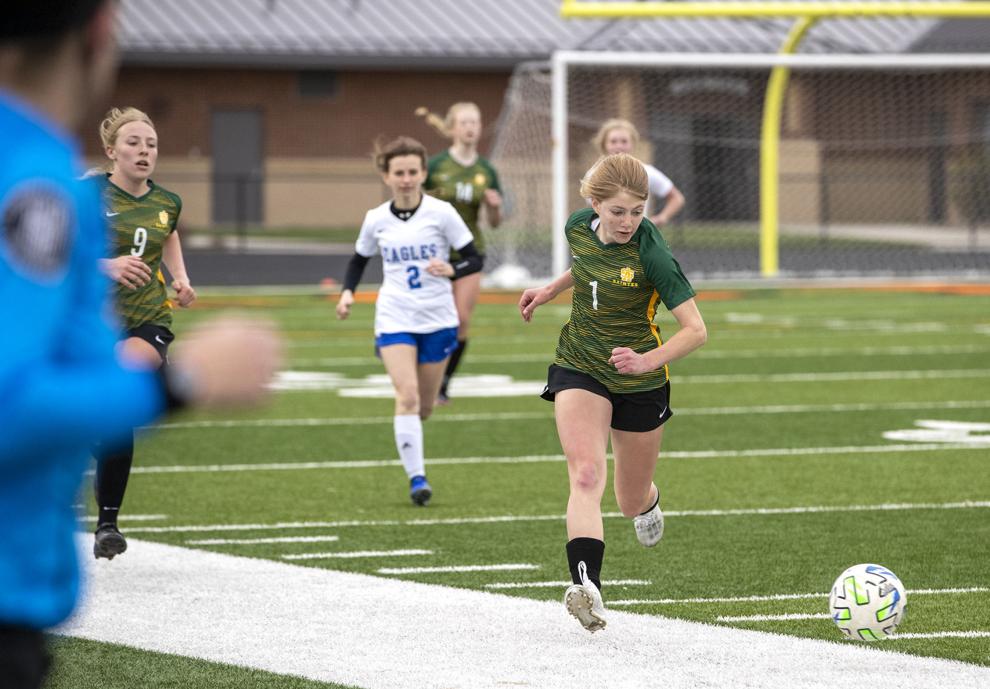 St. Albert girls soccer found itself in a hole early after allowing two goals in the first eight minutes against Atlantic on the road on Tuesday. But the Saintes battled back and eventually won in double overtime when freshman Ella Klusman placed a shot into the back of the next in a 4-3 win.
Head coach Chris Hughes was happy with how his team performed.
"Atlantic played really well," he said. "It's probably the best Atlantic team I've seen in a long time. We came out and they started the game right away and we waited for about 10 minutes when we were down 2-0 to start."
Atlantic senior forward Tatum Grubbs scored all three of the Atlantic goals. Her first two goals came in the third and eighth minute.
Freshman Katelynn Hendricks put the Saintes on the board in the 12th minute off an assist from senior Makenna Shepard.
Shepard tied the game up in the 23rd minute off a corner kick from Klusman and Klusman have St. Albert a 3-2 lead before halftime after scoring in the 28th minute.
Atlantic found the equalizer in the 70th minute to force overtime where neither squad scored in the first extra period.
It looked like the game may be headed to a shootout when junior Mallory Daley found Klusman for the game-winning goal.
"We possessed most of the game," Hughes said. "... They're just bigger, stronger and faster than we are. We just need to defend a little better and drop a little better. We're not going to win a four by one race.
"Offensively we had some big gaps in the middle we need to clean up. Overall we controlled the ball. We're not going to do the through balls. We have to possess. We have to outshoot you and outwork you."
Hughes added that he was especially proud of St. Albert's ability to fight back after falling behind early.
"It was exciting because the girls battled," he said. "We could have lost by 10 and called her a night. They battled and they fought and they worked hard to get the win."
St. Albert is now 3-1 in its last four games and is 4-3 overall.
The Saintes are in action next at 5 p.m. on Thursday against Glenwood at the YMCA fields in Council Bluffs.
St. Albert (4-3) 3 0 0 1 -4
Atlantic (3-5) 2 1 0 0 -3