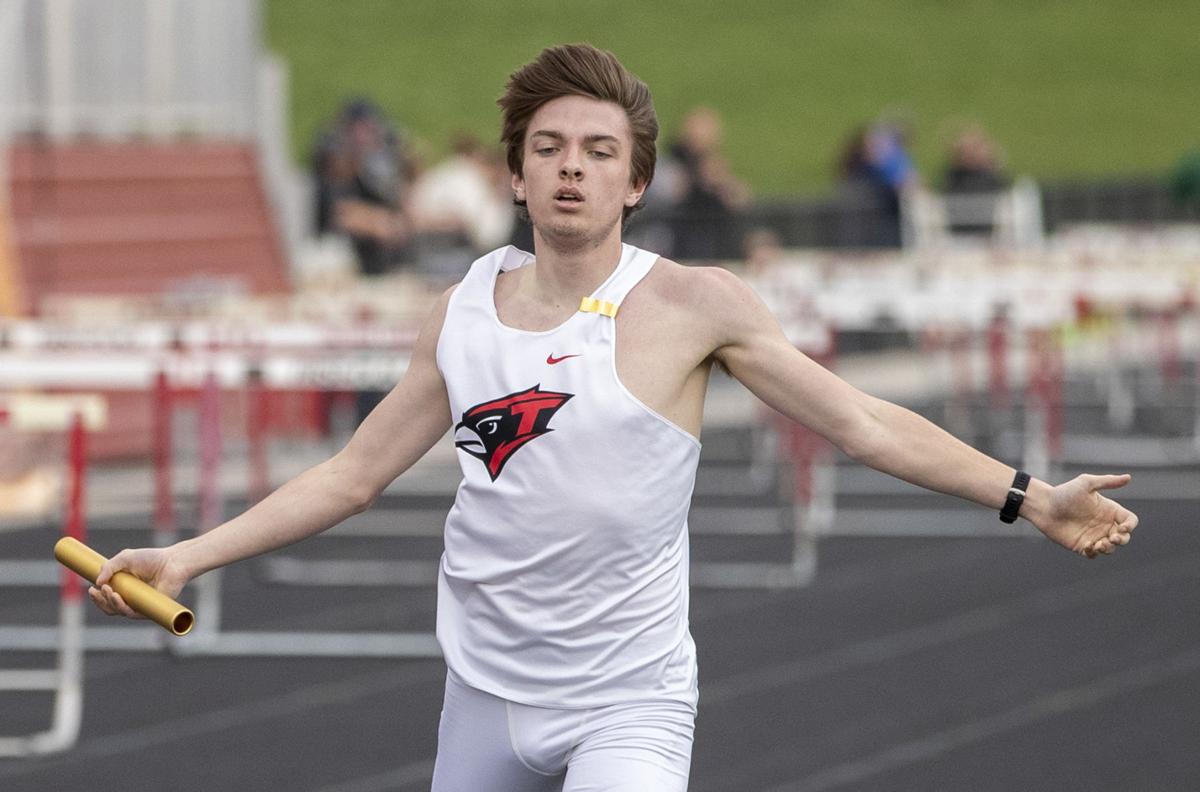 Lewis Central boys track thought it had taken first place at the Ken Carstens Boys Invitational in Harlan on Tuesday, but a scoring error changed that.
The meet scored a third Titan runner in the 100-meter dash (only two per team could score) and after correcting the tally, Treynor edged Lewis Central 133-130.
Treynor head coach Jeff Koenck was pleased with the victory and is excited for the future of the season
"As for the meet, I was pleased with my team's effort," he said. "We have put an emphasis on winning team titles early in the season and so far we are four for four. ... We had some young guys step up and help our relays place high to help with the team scoring. ... Overall, it was a total team effort."
Cardinal senior Noah James led all competitors at the meet with 32.5 points.
He placed first in the 110 hurdles with a time of 15.33, first in the 400 hurdles with a 57.04, first in the high jump after clearing 6 feet and was part of the 1600 relay that finished first with a 3:34.25.
Treynor's Cole Dooley scored 21 points after winning the 3200 with a season-best time of 10:04.21 and placed sixth in the 800 and second in the 1600.
Blake Sadr scored 13 points for the Cardinals after taking second in the discus and fourth in the shot put.
Other scorers for Treynor included Sid Schaaf (12), Todd Pedersen (10.5), Devin Vorthmann (8.5), Jaxon Schumacher (7.5), Josh Clark (7.5), Evan Smith (5.5), Noah Nelson (4.5), Karson Elwood (3.5), Kayden Dirks (2), Payton Chapman (1.25), Nolan Waterman (1.25), Aaron Sadr (1), Kale Vorthmann (0.75) and Kyle Moss (0.75).
Despite the score reversal, Lewis Central head coach Matt Argotsinger had nothing but positive things to say about his team's performance.
"I think we're running pretty well right now," he said. "Everybody, including us, is running a little tired right now so our guys were kind of feeling it late in the meet. Overall times are coming down and kids are getting used to some events, especially as many young kids as we have. They're starting to get used to the events they're running and learning how to run them and that's why you're seeing time drops like you are right now."
Ethan Eichhorn led Lewis Central with 18 points after placing first in the 1600 with a 4:51.62 and second in the 3200 with a 10:06.90.
Argotsinger said he was pleased with Eichhorn's improvement so far this season.
"He's really learning how to run the two mile and mile," he said. "The longer the distance the better he is. But unfortunately, in track there's only two mile and mile. He's kind of having to learn how to run those two races and he's doing a better job of getting the splits that we want down."
Hunter Deyo scored 14 points for the Titans after winning the shot put with a throw of 51 feet, 8 inches and finishing fifth in the discus with a distance of 122-04.
Nathan Sell took second in the 800 with a 2:06.95 and ran on the first-place 800 medley and the 1600-distance medley which finished second.
Jonah Pomrenke (12), Tyler Ruiz (8.5), Wyatt Hatcher (8), Lucci Fidone (7), Tyler Hinsley (7), Ethen Fishell (7), Ryan Rohn (6), Julian Humpal (5.5), Jonathan Humpal (4), Quentin Allen (3.5), Chase Wallace (3.5), Caleb Moore (3), Haidyn Cox (2.5), Luke Woltmann (2.5), Lual Maker (2.5), Brandon Sutter (1.5) and Caleb Campbell (1) were the other scorers for Lewis Central.
Underwood placed fifth at the meet and was led by Brayden Wollan who scored 12.5 points after winning the 400 with a 50.22 and anchoring the 400 relay which played first.
Thomas Jefferson came in ninth place after Juan Martinez and Hunter Ryba each scored 6.75 points. Martinez placed third in the 800 and was part of the 1600 and 800-spring medley relays.
Ryba placed fourth in the 200 and was part of the 400, 800 and spring medley relays.
Tyler Huey (6.25), Ethan Bose (3.25), Austin Schubert (1.75), Devon Bovee (1.75), Andre Chioco (0.75), Victory Atupra (0.75), Roi Sorian (0.5), Mark Markuson (0.25), Chase Koletzke (0.25).
St. Albert was also at the meet and finished in 10th place with 28 points despite only bringing four athletes.
Greg Fagan led the Falcons with 16 points after placing second in the 200 with a time of 24.09, third in the shot put with a throw of 47-0 and seventh in the discus with a toss of 119-09. Both throws were a season person record for Fagan.
"I thought the four guys that I had did very well," St. Albert head coach Russ Sindelar said. "Greg Fagan set new personal bests. Every meet he's been improving on (shot and disc). Greg is just a very natural athlete and he's very coachable and he puts a lot of pressure on himself to improve. He's seeing those results."
Colin Lillie placed fourth in the 3200 and 1600. He ran a 10:29.62 and 5:04.39 respectively to score 10 points.
"He's always improving. He's running against the same guys from Lewis Central and Harlan we see a lot of those guys. Those guys are improving also and so is Colin," Sindelar said.
Hadyn Piskorski added two points after placing seventh in the 3200 with a time of 11:11.68, his best time of the season. Owen Wise competed in the 800 and 1600 for the Falcons.
Abraham Lincoln brought its young team to the meet and head coach John Wolfe said he was pleased with the development his team is showing.
"We made some improvements in some of the areas that we thought we could and needed to," he said. "It was a little bit of a rollercoaster, because there was times we ran really well and times where we were a little bit below our standard. All in all, as the season is progressing we're making the progress we need to make. Our kids are getting better and more than anything they're competing."
Cody Smith led the Lynx with four points after placing sixth in the 1600 with a 5:10.11 and anchored the 3200 relay which placed fifth.
Ethan Leinen (3.75), Mikaele Hayes (1.25), Braden Lasale (1.25), Jaxon Boro (1.25), Kelsy Fox (1.25), Dalton McCormick (1), Mac Volff (1), Judah Burnett (0.75), Tommy Chau (0.75) and Steven Smith (0.75) were the other point scorers for Abraham Lincoln.