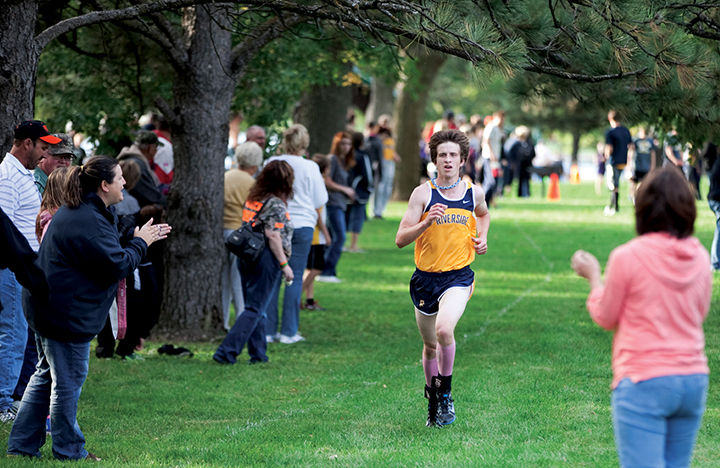 NEOLA – Competing without its top runner Tuesday at the Tri-Center Invite, the Underwood girls cross country team could have faltered.
Instead, the Class 1-A No. 10 Eagles thrived.
Underwood finished the beautiful day at Arrowhead Park tied for first place with Missouri Valley with 42 points despite competing without its No. 1 runner, Karley Larson. The Eagles won the team title because No. 6 runner Tobey Yates finished 23rd, ahead of the Lady Reds' No. 6 runner.
Missouri Valley's Alexis Cook won the girls race with a time of 15 minutes, 52 seconds.
On the boys side, host Tri-Center claimed top honors with 53 team points while Riverside's Tim Brink earned the individual title with a winning time of 18:38.
But it was the Underwood girls' resilient victory Tuesday that stood out most.
"The girls have been running very well," Underwood coach Eric Hjelle said. "Prevailing today was big for us. We got here, we talked to the girls and they stepped up and ran well."
Larson wasn't feeling good on the bus before the meet, and Hjelle decided it would be best for her not to participate.
He said the success was a testament to the Eagles' quality depth. They still performed well as Erin Shapcott (third, 17 minutes, 29 seconds), Kiley Cook (sixth, 17:55) and Gabby Myers (eighth, 18:15) ended up in the top 10.
"We know we have six-deep for sure, and even after that, we're pretty good," Hjelle said. "Our sixth girl, Tobey Yates, has medaled at a couple meets for us this year. She's really stepped up."
Tuesday's victory was the second team win this season for the Eagles. They also won their season opener at Logan-Magnolia.
While the Eagles prevailed in the team standings, Cook claimed the top individual honors. Class 1-A's 13th-ranked runner cruised to an easy win, crossing the finish line more than a minute ahead of second-place Megan Maaske of Woodbine (17:02).
Despite her dominance, Cook didn't meet her goal Tuesday.
"We set a time for today, and the first thing she says to me is that she was two seconds off," Missouri Valley coach Scott Cihacek said. "We were going for 15:50. That's just the kind of kid she is."
Like Cook, Brink encountered little trouble en route to victory. He led almost the entire race and finished 18 seconds ahead of Boyer Valley's Zack Ambrose.
The win was Brink's second of the season after winning earlier at the AHSTW Invite.
"This was way different from what I've done because it's flat, and then there's a huge hill," Brink said. "Otherwise, it's been pretty much the same, just staying out in front of the herd and such."
Class 1-A No. 7 Tri-Center ran well on its home course. Juniors Chris Jarrett and Dion Coffey finished fourth and fifth, respectively, to pace the Trojans.
"The boys have been running really well," Tri-Center coach Dennis Jarrett said. "They've kind of got the pack mentality. We've got Christopher and Dion that are a little ahead of the other boys, but they're all bunching up and slowly starting to move up a bit."
Girls team results: 1, Underwood 42; 2, Missouri Valley 42; 3, Treynor 98; 4, AHSTW 113; 5, Tri-Center 126; 6, Woodbine 143.
Individual Top 10: 1, Alexis Cook, MV, 15:52; 2, Megan Maaske, Woodbine, 17:02; 3, Erin Shapcott, Underwood, 17:29; 4, Emily Copic, Exira-EHK, 17:35; 5, Courtney Chapman, T-C, 17:49; 6, Kiley Cook, Underwood, 17:55; 7, Hannah Dugdale, MV, 18:02; 8, Gabby Myers, Underwood, 18:15; 9, Caitlyn Casey, Logan-Magnolia, 18:16; 10, Hedie Hall, AHSTW, 18:24.
Boys team results: 1, Tri-Center 53; 2, Glenwood 70; 3, Boyer Valley 82; 4, Riverside 85; 5, AHSTW; 6, Logan-Magnolia 139; 7, Underwood 183; 8, Treynor 190; 9, Woodbine 227; 10, Southwest Iowa 300.
Individual Top 10: 1, Tim Brink, Riverside, 18:38; 2, Zack Ambrose, BV, 18:56; 3, Gage Graeve, MV, 19:07; 4, Chris Jarrett, TC, 19:20; 5, Dion Coffey, TC, 19:27; 6, Quentin Grey, Glenwood, 19:28; 7, Drew Pauley, MV, 19:40; 8, Justin Thomas, Lo-Ma, 19:55; 9, Otis Matejka, Riverside, 19:58; 20, Connor Garrett, BV, 20:07.