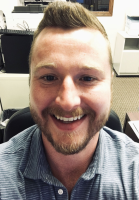 In its second week back from the implemented at-home learning period, Heartland Christian Schools is showing positive signs in relation to stu…
Alicia Frieze's job for the Council Bluffs Area Chamber of Commerce is straightforward on its face: Finding ways to bolster the city's economi…
Council Bluffs Police Chief Tim Carmody said he isn't concerned about his prospect officers' ethnic backgrounds; rather, he wants to bring peo…
An arrest has been made in the 1999 murder of a Council Bluffs woman.
Methodist Jennie Edmundson was recently recognized for excellence in lactation care, according to a release from the facility.
No criminal charges are being filed against the Council Bluffs Police officer involved in a September shooting incident at Walmart, according …
Three of the four candidates battling for a seat on the Pottawattamie County Board of Supervisors participated in a public forum Tuesday eveni…
A local proprietor was recently recognized for the service he provides to the greater Council Bluffs community.
Area kids looking to spend some time with Mother Nature while also having the opportunity to win prizes will soon have the perfect opportunity…
An unidentified driver was in critical condition as of Friday afternoon after being ejected from his or her vehicle during a wreck along Inter…
View all